Team Building
The Team Building program is for grades 7 through adults. We tailor your stay for whoever you are! Pine Cove's Team Building has great curricula for junior and senior high kids as well as workers in the corporate world.
Participants fine-tune communication skills and create positive solutions in a variety of challenging scenarios.
Whether in initiative games on the ground or standing on top of the zipline, the Team Building program is an experience designed to bring your group closer together.
Initiative Games
Enthusiastic instructors facilitate these fun, energetic games that allow participants to relax and be themselves and become better acquainted with their peers. These games act as effective tools for teaching team cooperation, encouragement, problem solving, and communication.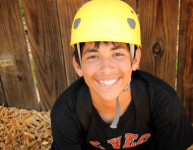 High Elements
For many people, the high elements are the culmination of the Team Building experience. Whether groups take on the climbing wall, the breathtaker, or the zip lines, the experience leaves a lasting impression. Individuals walk away from the high elements with a sense of accomplishment and encouragement.