Women's Retreats and Family Retreats
Pine Cove's facilities lend themselves to a variety of adult retreats such as marriage retreats, women's retreats, couples retreats, family retreats, scrapbooking retreats, along with other endless possibilities. We offer facilities with both hotel-style and dormitory-style lodging. So come to Pine Cove Christian Camps…and let us serve your group in Jesus' name!
Tyler Locations
Bluffs
Set on the highest-point overlooking Lake Palestine, the Bluffs is ideal for adult retreats and family groups. It offers large, hotel-style cabins, delicious meals, and one of the most awesome views you will ever see.
Woods
Surrounded by beautiful pine trees, dogwoods, and azaleas, this is the perfect setting for adult retreats and family groups. You'll stay in hotel-style lodges and have your meals served to you by our friendly staff.
Timbers
This camp is a great location for any age group. It features newly built bunk bed cabins with private bathrooms set along a scenic, private pond.
Shores
Set on the beautiful shoreline of Lake Palestine, this camp appeals to both high school youth groups and adult groups. You'll stay in bunk-style cabins with private bathrooms, play volleyball, and watch the sunset from the dock.
Columbus Locations
Crier Creek
Set on a 700-acre deer reserve, adult and family groups love this peaceful retreat center. It features hotel-style cabins, home-cooked meals, and activities for all ages.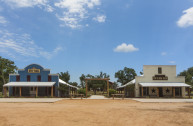 Silverado
As our newest Columbus location, Silverado is a western-themed camp with bunk style cabins with private restrooms. It's a great fit for youth and adult groups!
Outback
This Columbus camp offers bunk style cabins with private restrooms. It is a perfect fit for both Youth and Adult retreats!