Youth Group Retreats
Pine Cove offers excellent facilities for Youth Retreats. The following camp facilities are perfect for youth groups to hold their Christian youth retreats. If you're looking for fellowship, fun, affordability, and a Christian atmosphere, come to Pine Cove…and let us serve your youth group in Jesus' name!
Tyler Locations
Towers
Youth and Children will love this camp! It has new bunk style cabins that look like castles along with all the activities that they will thoroughly enjoy.
Ranch
Ideal for both youth and adult retreats. This camp's bunk-style cabins, recreational activities, and relaxed atmosphere allow groups to have an unforgettable church retreat.
Timbers
This camp is a great location for any age group. It features newly built bunk bed cabins with private bathrooms set along a scenic, private pond.
Shores
Set on the beautiful shoreline of Lake Palestine, this camp appeals to both high school youth groups and adult groups. You'll stay in bunk-style cabins with private bathrooms, play volleyball, and watch the sunset from the dock.
Columbus Locations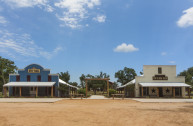 Silverado
As our newest Columbus location, Silverado is a western-themed camp with bunk style cabins with private restrooms. It's a great fit for youth and adult groups!
Outback
This Columbus camp offers bunk style cabins with private restrooms. It is a perfect fit for both Youth and Adult retreats!