Theirs was the only car on the highway. 
It was the winter of 2010, and Pine Cove President & CEO Reed "S.I." Livesay and then Executive Director of Ministries Kevin "Opee" East were in Georgia, on the hunt for land for a new Pine Cove camp. Somehow they had missed that an ice storm was barreling towards the city—hence the empty roads. Thankfully they remained safe despite the impending winter weather.
"That trip yielded no fruit other than some great laughs," Reed recalls. They may not have found viable property for the next Pine Cove camp, but an important step in Pine Cove's growth was already in motion.
After decades spent firmly rooted in Texas, Pine Cove had begun actively looking to expand into the Southeast in the early 2010's. Even our late founder Bill "Red Baron" McKenzie, would jump on a plane to go look at some land at the age of 85! Eventually Pine Cove purchased property on the banks of Lake Hartwell in the northwest corner of South Carolina, and a family camp called Chimney Point opened in 2017. But the search for an additional land to host youth camps continued.
If there's one thing that comes up again and again throughout the story of the Springs, Pine Cove's newest youth camp, it's God's very real and direct involvement. "It's just been remarkable to see how the Lord has gone before us," Reed marvels.
So how did it all come about? How did nearly a thousand acres of richly forested land (including a private lake) become home to Pine Cove's Georgia contingency of youth camps? For that, we need to rewind back to the 1930's and a man named R.G. LeTourneau, a successful businessman with a generous heart. This tract of land, less than 100 miles from Atlanta, was purchased in 1938 by LeTourneau, a world-renowned inventor and manufacturer of earthmoving equipment.
He used his own earthmoving machinery to build a dam that allowed for the formation of a spring-fed lake spreading over 170 acres. This lake, still on the property today, was named Lake Louise after LeTourneau's only daughter. He also built a conference center near the lake, meant to be a peaceful, idyllic retreat. LeTourneau intended that this would be "a Christian hotel for Christian people" and would be a place of retreat and ministry.
In 1963, LeTourneau sold Lake Louise, the 940 acres of land surrounding it, and the conference center to the Georgia Baptist Convention, a group that for 200 years has come alongside Baptist churches of Georgia and sought to further the Great Commission. After decades of rich ministry and faithful service to the Lord, the Georgia Baptist Convention reached out to Pine Cove.
"In June of 2020 I got an email," Reed recalls. "And it was from the Georgia Baptist Convention inquiring if there would be any interest in discussing a camp facility located in Toccoa, Georgia."
God's clear involvement in this story became evident once again: as soon as we stopped actively looking for property, He brought us the perfect one.
The property in question was just ten minutes away from Chimney Point. It included a private lake, a 400-person dining hall, a 1,000-person auditorium, and enough space to house hundreds of campers. Pine Cove was interested.
"I talked with a gentleman by the name of David Melber, the new COO for Georgia Baptist," explains Reed. "He had come from the business world but had been leading a camp in Kentucky for 10 years. David was familiar with Pine Cove and just said, 'Man, I love what you guys do. We'd love to see you guys have it.'"

The only problem? It was mid-2020, meaning Covid had taken a toll on Pine Cove's finances, and the search for new land had been put on hold. There was no way Pine Cove could afford or was in a position to offer what that property was worth. 
But God.
Reed Livesay, Bill Wellons, and the Pine Cove Board pray together about the purchase of the Springs property.
Before the pandemic hit, the Lord had called several families to invest in Pine Cove's growth in the Southeast, donating funds specifically for the acquisition of a new property.
"And I just said, 'David, this is the deal right now,'" Reed recalls saying to Melber. "All I can offer you is what these families have given us." 
Looking back on it now, Reed likens this step in the process to that familiar Bible story found in the Gospels. "It felt like the boy in Matthew 14 bringing only five loaves and two fish to Jesus, who was being asked to feed thousands," he explains.
Again: but God.
"David responded to the offer and said, 'I think the Lord is up to something here… something that continues the ministry that we believe this land was meant for. And I think we can get this deal done.'"
The deal did indeed get done. The entire purchase process, which took 100 days start-to-finish, was saturated with signs of God's favor: a purchase price a fraction of its actual value, a unanimous vote of approval by all 120 pastors who made up the executive committee of the Georgia Baptist Convention, a Christmas Eve closing date, and many more.
Bill Wellons, Pine Cove's Vision and Strategy Officer for the southeast region, completed a significant amount of work and due diligence on the property that was integral to the purchase. But he sees the hard work as more than worth it when viewed with an eye toward the life change God will continue on this land.
"It's an incredible privilege to stand on the shoulders of those who have gone before us in Gospel ministry," Bill shares. "What has happened on the property for 80 years is something we want to continue, not change. We are humbled by the opportunity and grateful for such rich heritage."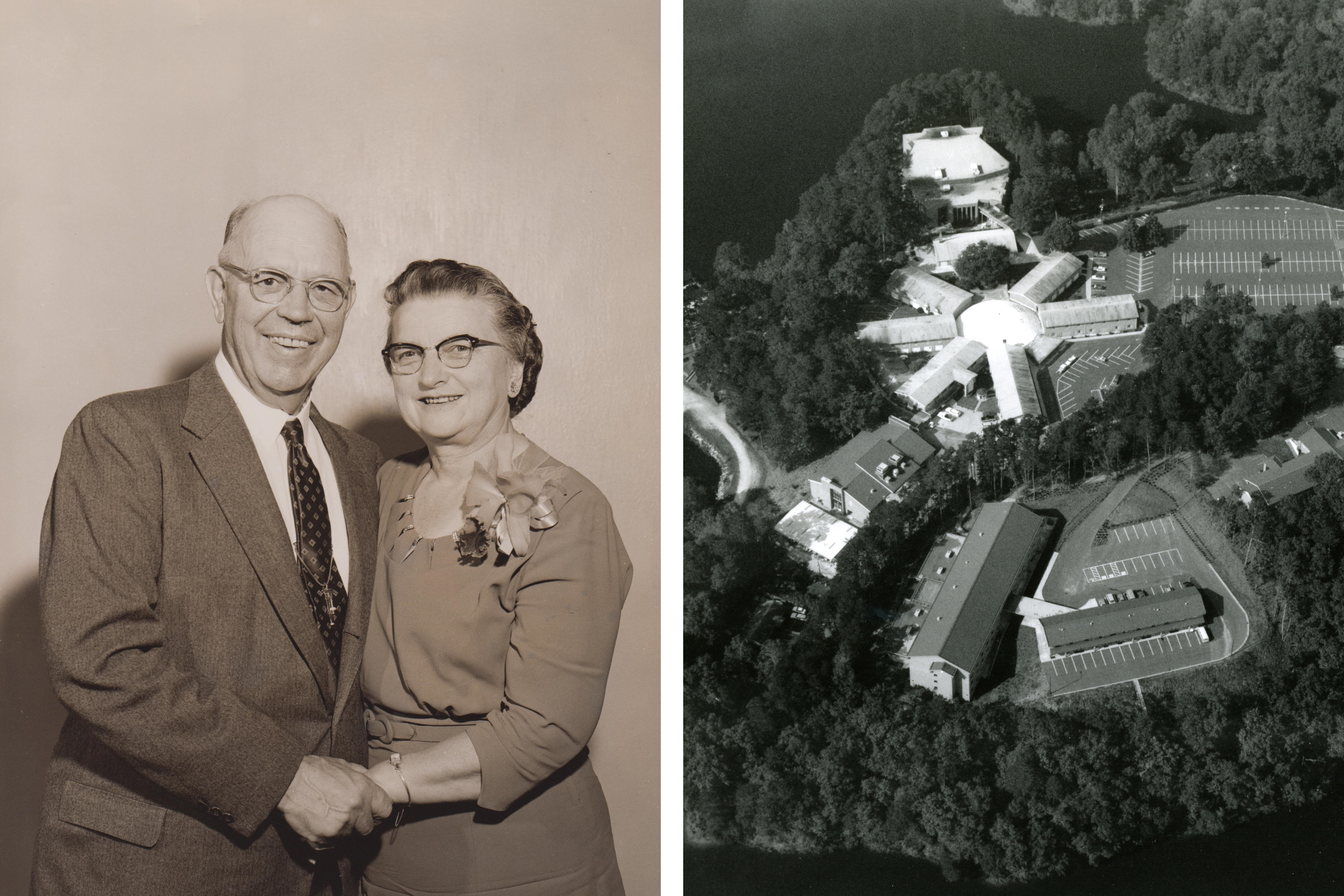 Left: Mr R.G. and Mrs. Evelyn LeTourneau. Right: The Georgia Baptist Convention Center
Pine Cove officially announced the acquisition of new camp property in May of 2021, along with its new name: the Springs. Opening for the summer of 2022, the Springs is able to host up to 176 fourth through eighth grade campers each week for a Christ-centered, others-focused, and seriously fun camp experience.
Chad and Nicole McNutt have been sending their three children to Pine Cove for years without fail. Not even a move to Atlanta could keep them from ensuring their kids could return to Texas for camp each summer.
"It was worth us making the investment in our kids and dropping them off halfway across the country for a week," Chad explains. "And spiritually, all three of our kids are amazing as far as their heart for the Lord, and I attribute a lot of that to the ministry of Pine Cove in their lives over the years."
Chad knows his fair share about the ministry of Pine Cove. In addition to serving on summer and full-time staff, he grew up attending the Towers and Ranch as a camper.
"I've been a camper at Pine Cove, and I know the impact it had on my life. That was a huge foundation for me growing up. So I just know the value of Pine Cove in the life of anybody who comes in contact with the ministry. I mean, I want to give God the glory for it because the Lord's the one who changes lives, but He uses Pine Cove in a huge way."
The Springs opened summer 2022 and welcomed its first-ever campers!
In addition to Chad's background with Pine Cove, his wife Nicole has been heavily involved in bringing Pine Cove City to the Southeast and championing the ministry in their area. And while Pine Cove day camps have occured in Georgia and nearby states for years, this will be the first time we've brought youth camp to the Southeast. 
"There's nothing like Pine Cove anywhere else, probably in the world, but especially in the Southeast," Chad says.
Now that Pine Cove will be within 100 miles of Atlanta, the McNutts are eager to see the impact youth camp can have on the young generation in their city, state, and beyond.
"Pine Cove has stayed true to God's word. They haven't backed down on teaching the word, being bold about God's word, and yet being fun and being relevant in today's world," Chad explains. 
Nicole agrees, and adds that she's praying families in the Southeast "would get on board with Pine Cove's mission, and desire for their kids to go someplace, not just to have fun, but to really strengthen their walk with the Lord."
Although the location will be new, the Pine Cove culture that campers and families have come to expect over the past 54 years will remain the same. 
We never would have thought we could afford such a large property, much less one purchased for far less than its overall worth, and only ten minutes away from Chimney Point.
But God. 
"Now to Him who is able to do far more abundantly than all that we ask or think, according to the power at work within us, to Him be glory in the church and in Christ Jesus throughout all generations, forever and ever." Ephesians 3:20-21 
"'To Him who's able to do far more than we can ask or imagine…'" Reed ponders. "That perfectly describes it. He is going before us… and it's just extraordinary."