"Well, somebody must've been hungry!"
Hearing these words, I turn around to see a kind-eyed grandmother chuckling in amusement. She's referring to the large pile of ice cream, marshmallows, and cool whip I had just made for myself. I suppose it was a bit much.
Quickly swallowing my spoonful of ice cream–and embarrassment–I smile to the sweet elderly lady in reply. "I told myself I wasn't going to have any, but here we are. Would you like some?"
"I'll have to pass, but thank you. I think you've got enough for the two of us there," she quips.
We both laugh.
"My name's Sfen," I say. "Short for Singin' For the Fences."
"I'm Jeri Snodgrass… I'm here this week with my granddaughter."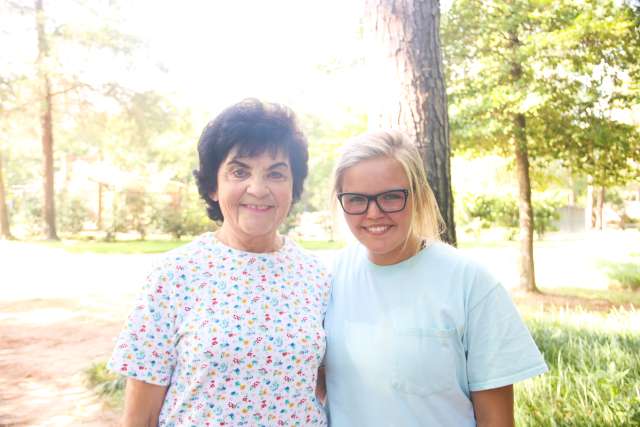 A grandmother and just her grandchild was generally unheard of at the Woods Family Camp. But for Snodgrass, a six-year Woods veteran, family camp wasn't just for the traditional mom, dad, and three kids; family camp was routine.
Before Pine Cove was even on her radar, Snodgrass recounts bringing her oldest grandchild, Landon, on a backpacking trip in the Rocky Mountains for something called "grand week."
"Grand week," as she describes, is a decade-deep tradition she started solely for her grandchildren. The way it works is when each one of her eight grandchildren turn 15, she takes them on a special seven-day trip to some place super active, spiritually intentional, and seriously fun.
After her first "grand week" in the Rockies, Snodgrass admits she was exhausted enough to know she couldn't do it there again. "It was beautiful, but there were maybe two whole days of travel beforehand, and then you're just hiking the whole time after that–too much walking for this grandmother."
Later that year, Snodgrass found out about Pine Cove from a family at her church that goes every year. When she looked into it more seriously, she realized it was the perfect place for her "grand weeks."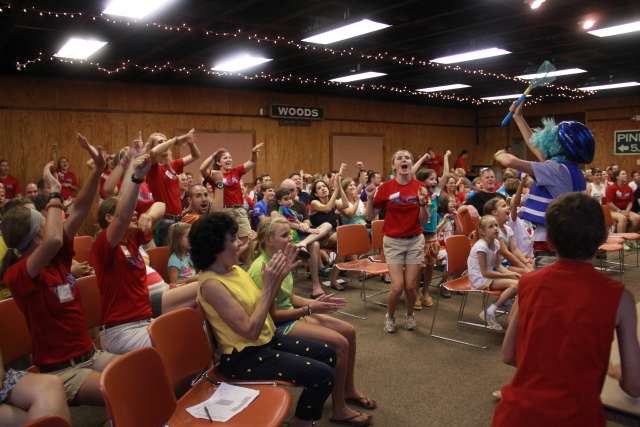 "I found Pine Cove and thought, 'Well this is just perfect,'" Snodgrass says. "There's nowhere you can go and do all these different activities for this price. And you know what–there's just the right amount of Bible time and fun time."
When she first came to the Woods in 2005, Snodgrass brought herself and her second oldest grandchild, Jeremy. Now Pine Cove is the only place she ever goes for "grand week."
"The younger ones get so excited when they know it's their year to come," she says. "And it's funny–they don't know what to look forward to because you can't explain Pine Cove, you have to experience it. But they know it's going to be great."
For this reason, coming to camp is never in question with Snodgrass. It's signing up for camp that can be quite tricky. On Friday every week at the Woods, the majority of families usually pre-register–they commit to next year before normal registration even opens. But since most of Snodgrass's grandchildren are a few years apart, she can't guarantee herself a spot like other returning families can. She waits to register until her next grandchild's 15th birthday.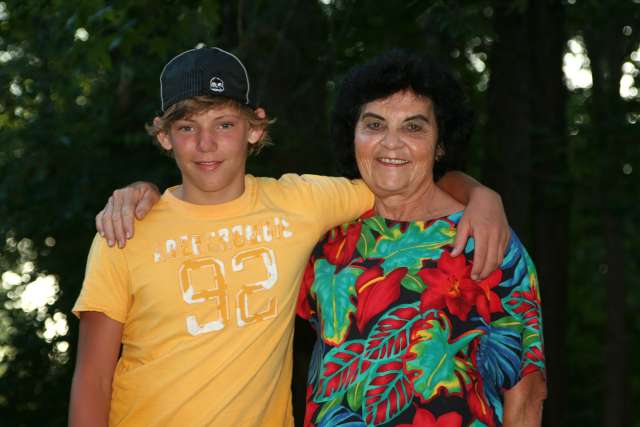 Snodgrass explains that because of her unique situation, she's on the waitlist almost every year. Despite this uncertain reality, she never worries. She believes it's by God's faithfulness that everything always works out.
"He's always provided a way," she says. "Usually I don't care what week it is, I just get off the waitlist and say yes. Even this year when I was offered week one and had to turn it down because of my work schedule, I ended up getting a spot for week eight."
During my conversation with Snodgrass, it doesn't take long to go from joking about ice cream to discussions about camp, the past year, life, and eternity.
Meaningful conversation happens so easily at family camp that it's hard not to think, "Well, sometimes people just connect in certain environments." A half-hour with this kind grandmother, though, confirms that it's not about the atmosphere of family camp, it's about the people that come to family camp. Meaningful conversation starts with people who love others with the kind of love always found in Christ.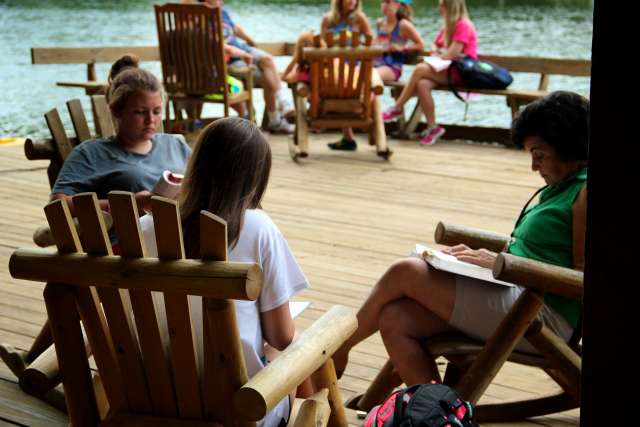 Lucky for Snodgrass and I, we also connect on a personal level. She mentions that her mom passed away early this past spring, and I tell her how I lost my grandmother right before I came to camp (I never expected the Lord to use this difficult experience to help me relate to a family camper!).
In addition to her grandchildren, the way Snodgrass talks about her mom–who would have turned 110 this past spring–barely captures how deeply she loves people and her family. Last year, when she wasn't working for her own house cleaning business, Snodgrass was taking care of her mother.
Being on summer staff at Pine Cove involves a whole lot of service, and while it's a pleasure getting to serve every kind of person, people like Snodgrass–who model service in a season of life when living for oneself is the norm–remind you why you're serving in the first place.
The older you get, the less time you have to live this life for yourself, yet Snodgrass still chooses to lay hers down for others. She chooses to clean houses and save money year after year to make "grand weeks" happen for her grandchildren. She chose to serve her 109-year-old mother to keep her out of a nursing home. And when many people her age might choose retirement, she chooses service.
The only explanation for this is Jesus. When we know and believe in the life of service He lived for those who don't deserve it, we no longer need to live. Instead, we adopt the characteristics of Christ as He lives through us (Galatians 2:20).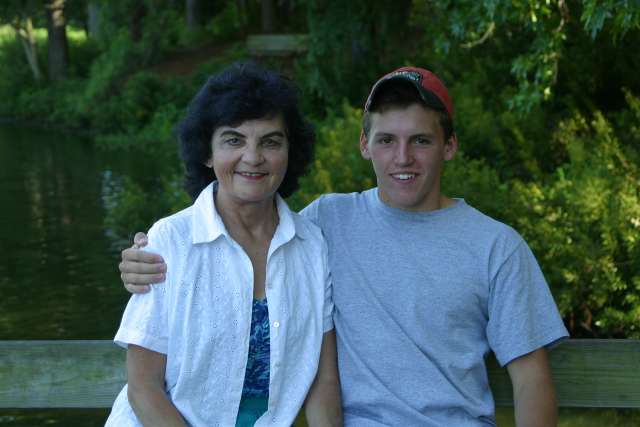 Every "Ice Cream Sundae Sunday" at the Woods, campers come to fellowship and satisfy their sweet tooth. Usually, you might see an infant crawling between legs, a six-year-old circling back to the topping table insisting on "one more cherry," a mom thanking the heavens that cheers aren't happening in the dining hall for once, and a dad rubbing his belly from the ice cream he's not allowed to have at home.
Then sometimes there's a soft-spoken grandmother in the back, taking it all in with a soft grin. You don't notice her at first because you're regretting the mile-high pile of ice cream you promised yourself you wouldn't get, but you're glad when she notices you. You're glad your helping of ice cream is ridiculous enough to spark conversation with her. And you're glad that family camp can be a tradition, even for the not-so-traditional family.