Imagine this: in one hand you have sleek, exciting technology. In the other, the entire camp experience, from skits and games to counselors and activities.
Put your hands together, friends. Because it's happening!
With the CampLife App, you'll have a window into a week of camp at Pine Cove that will blow your socks off! And you can download it right now for free on the App Store or Google Play. Technology and camp have joined together to create the most exhilarating app you've ever experienced! What's so cool about it? Well, for starters…
We'll be taking photos and tagging campers in photos all week long! So as soon as we've snapped their picture, you'll get a notification that there's a new photo of your camper waiting for you in the app!
<insert technology cheer here>
And it doesn't stop there! You can send your camper up to two electronic letters in the app, and they can write you back, without ever using a phone or computer! Nothing beats seeing a letter from your kid in their own handwriting, right? (Bonus if they attempt to draw themselves on the blob. That's always entertaining!)
Even more awesomeness: we'll be constantly updating the app throughout the week, adding a bio of your camper's counselor, videos, blog posts, and additional photo galleries.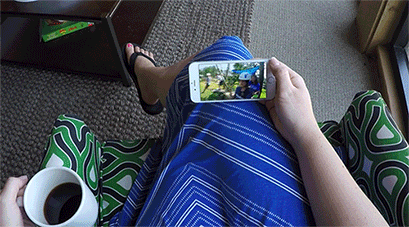 If you downloaded the app and are thinking to yourself, "This all sounds very familiar and is basically exactly the same thing we had last year," just wait! Because new features this summer include social sharing, push notifications, and the ability to invite friends to follow your feed!
By now you may be wondering if this means that your camper will have access to technology or be spending all week on their phones. Not to worry! We'll be taking care of everything from posting photos and blogs to sending their mail to you.
Family campers, we're not leaving you out! Your entire family will be wearing bands all week so that we can tag all of you in photos as well! So if Mom and Dad are enjoying some downtime at the coffee shop and their kiddos get tagged in a photo, they'll receive a notification that there's new content they can check in on! Families will also be able to invite friends and family back home to follow along with their week of camp and keep up with everything happening at Pine Cove. We'll also be putting the family camp speaker audio right into the app, so going back and listening to your favorite sessions will be easier than ever!
Of course, we're not forgetting our amazing summer staff! Every single one of our staffers will be wearing a band this summer so that they can also be tagged in photos and invite friends, family, roommates, and even other staffers to follow their feed!
We can't wait for you to immerse yourself in the Pine Cove experience through our new and improved CampLife App.
Questions? Check out our new FAQ page for more information.
We really hope you enjoy this new version of the Pine Cove CampLife App. Now ready, set, download!