Today, Ginger Ciminello is an author, mother, and speaker—frequently at Pine Cove events. A few years ago, though, she was Tuck-N-Whoa: Ranch summer staffer, legendary "camp namer," and Shores program video all-star. We're so excited to have her back at camp this March as our Women's Conference speaker! In the meantime, take a few minutes to get to know Ginger, her background with Pine Cove, how she got her camp name, and what she'll be speaking about at this year's conference.
Tell us a little bit about yourself and your family.
I just turned 37 but I feel like I'm 24, and am often surprised that I have kids and a mortgage and have to be the one to make the dentist appointments. I have two little girls, a kindergartener and a 2.5 year-old. My husband David and I have been married for eight years. I've been in Phoenix, Arizona for over 12 years, but I will likely always identify myself as a Texan.
What's your history with Pine Cove?
I started as a camper at the Ranch when I was in middle school. It was a pivotal experience in my faith journey. Camp was definitely the highlight of my summers all through high school. I then counted down the minutes to my summer staff interview. I worked at the Ranch and Shores before joining the full-time team post-college.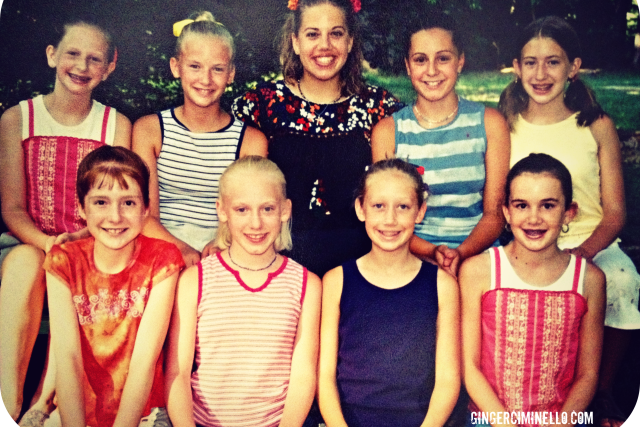 How did you get your camp name, Tuck-n-Whoa?
Embarrassing moments + stupid human tricks. I have lots of stories about falling. I should have "tucked and rolled." My vast special skills of eye rolling and crying like a baby make you say "WHOA."
You're a pretty prolific "namer" at Pine Cove. What are some of your favorite camp names you've sold?
I love the Name Game. Personal favs would include: Fish-N-Chips, Sooner or Ladle, Navy Squeal, and Weave it to Beaver. Oh, and of course, Shrimply Irresistible.
What's your all-time favorite skit character you've ever played?
Oooh. So many memories come rushing back all at once. I had so much fun playing Paula Rabdubula at the Ranch for a theme night version of American Idol. Shores program videos are definitely high on the list.
What are you most looking forward to about this year's Pine Cove Women's Conference?
Studying God's Word with women in one of the most memorable and beautiful settings. The Shores dock holds some great memories for me.
What will you be speaking about?
Freedom in Christ! Galatians 5:1 is our them verse for the weekend, "It is for freedom Christ has set us free. Stand firm then, and do not let yourselves be burdened again by a yoke of slavery."
How do you remind yourself to "live free" in your daily life?
Lots of ways, but I think preaching the Gospel to myself has become a regular practice. In my morning times with the Lord I have been writing "Here's my heart, Lord" and then journaling out the burdens I'm carrying. What feels heavy, hard, frustrating? What am I waiting for? What am I anxious about? And then, I write out, "Speak what is true…" and it's really an invitation for the Holy Spirit to remind me of truth. I may feel afraid or as though I'm not enough, but then I call to mind what the Word says and write out that truth. "God uses broken things to do His work. If He calls, He equips. When I am weak, then HE is strong. My work is to believe the one He sent. I can trust his purposes and goodness. He will not leave or forsake me…" When I turn my worries into declarations of worship, I can't keep carrying the burdens and I in turn walk in greater freedom.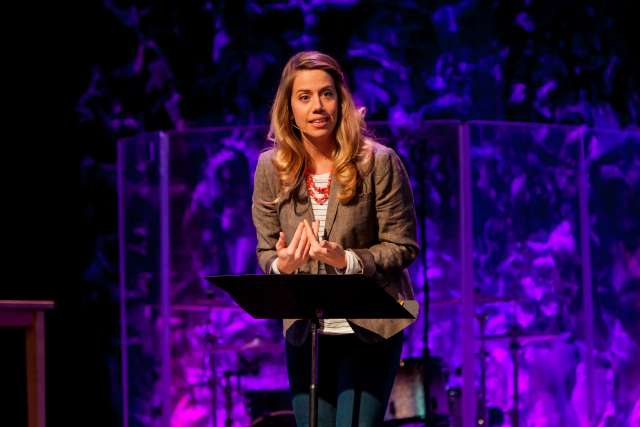 Do you have a favorite "Christian living" book you've read recently?
I'm almost finished with "Gospel Fluency" by Jeff Vanderstelt. It's really, really good.
What are some of your favorite ways to memorize scripture?
Songs are really helpful for me. I also write them everywhere. I have cards in my car, in my pantry, on my mirror. I've written out the first letter of every word in a passage on a rubber band and then wear it on my wrist. Sometimes I turn my hand into a daily inspiration board.
What Pine Cove staffer or director (or director's wife) has made the biggest impact on you? What did they teach you?
This list could be a mile long. I was sitting under the teaching, guidance and encouragement of so many staff for over a decade. So many many different people shared truths that will stick with me for my whole life. But my husband would tell you that I likely quote Carrie Langemeier (Duchess) the most. Comparison is the thief of Joy! Although the quote didn't originate with Carrie, she was the first to introduce it to me. I was in her Cake-N-Steak (Bible study) for multiple summers and drank in her hospitality and words. I gleaned a lot of wisdom from her passion for God's Word through her tattered and loved Bible.
What are some specific things people can be praying for ahead of the conference?
Open ears and open hearts both for myself as the speaker and for the women attending!
"I pray that the eyes of your heart may be enlightened, so that you will know what is the hope of His calling, what are the riches of the glory of His inheritance in the saints." Ephesians 1:18
Ready to hear more from Ginger? We still have a few spots at our upcoming Women's Conference, at the Pine Cove Shores, March 1-3. Call us at 877-474-6326 to claim your spot!