Amanda Barnes has been with Pine Cove for decades. She is a mother, a wife, and a Pine Cove Outback Registrar, or "Reggie" to use the common nickname. She was recruited to Pine Cove as a college counselor in 1999, and has been an exceptional example of the kindness and commitment of Jesus at Pine Cove in several different roles ever since!

We love that on any given day, Amanda can't help but prioritize her moment-to-moment pursuit of the Lord. She chooses Him constantly. This quiet but powerful gift is integral to who she is, and she remains grateful to know the truth she believes in. She is exceedingly kind and always points to Jesus with her gently magnetic, Christ-centered disposition. 
From camp counselor to registrar, her experiences with Pine Cove are extensive. She is quick to give thanks for every moment, and smiles through every memory she recounts, old and new. She sees and rejoices in the Lord through all of it. Amanda is as warmhearted as they come, and an inspiring representation of Pine Cove's Christ-centered values.

Let's learn more about Amanda's experiences with Pine Cove in her own words.
When was the first time you heard about Pine Cove?
I did not grow up going to Pine Cove. I was recruited at Texas A&M in 1999, during my freshman year of college. I interviewed with Kevin "Opee" East and that was it—that's how I got here!
Amanda and her cabin of girls at the Shores, summer 1999
Tell us a little bit more about Pine Cove! What is your camp name?
Super Soaker, established in 1999!
What's the story?
In college I went to a gathering with a guy who was a cross country runner for Texas A&M. After the event, a group of us went to have fun at a campsite. He and I decided to buy huge super soakers and sneak up on the group while they were building the fire. We did that, and soaked everybody! We dropped our soakers and ran away. I followed his lead but obviously couldn't keep up with the skill set of a collegiate-level cross country runner. Our friends quickly caught up and emptied all four of the super soakers on me. I got soaked—super soaked!

What are you up to at Pine Cove now?
I am and have been an Outback registrar during the summer for the past 10 years. One of my favorite things about being an Outback registrar is working with younger Reggies that I have grown to love. A lot of the girls I work with are newly married, or pregnant for the first time. Multi-generational relationships are such a blessing. Those relationships are where I get the privilege of knowing these girls.

What an opportunity! Tell us more about being a Reggie.
I also love talking to nervous moms when they call! That is one of my new favorite roles at Pine Cove. They'll ask if I have seen their child today and I'll tell them I'm in the office, so no, I haven't seen them. It's a big deal leaving your kids when there's no way to be in contact with them. I didn't understand that until my own kids went to camp. Now, I understand. And I would love to talk to them.
Kristyn "Munchkin" Bartley and Amanda at the Shores in '99. The two have remained best friends and their daughters now go to camp together.
Kristyn's daughter, Banner and Amanda's daughter, Rebekah at the Towers. 
Can you tell us more about your children's experience at Pine Cove?
Because I work at Pine Cove, my kids have the opportunity to go to camp. For Pine Cove to let my kids be a part of camp shows so much value in me, my role here, and my family. The fact that our kids get to go experience Christ and be loved by Pine Cove is worth everything to me. 
What do you and your family like to do in your spare time?
Part of my desire is to instill a servant's heart into my kids. What are some things we can do to bless somebody else? It doesn't always happen and it's hard to always do. I can get so selfish in my mind and down about certain things, but if I focus my thoughts on the Lord and then other people, it makes me so much happier. Taking that focus off of myself and onto somebody else never feels like a waste of time, and brings so much peace. I can't change that in my kid's hearts, which is a hard thing as a mom, but you have to trust. To be given the job and title of "mom" is the most beautiful and humbling gift.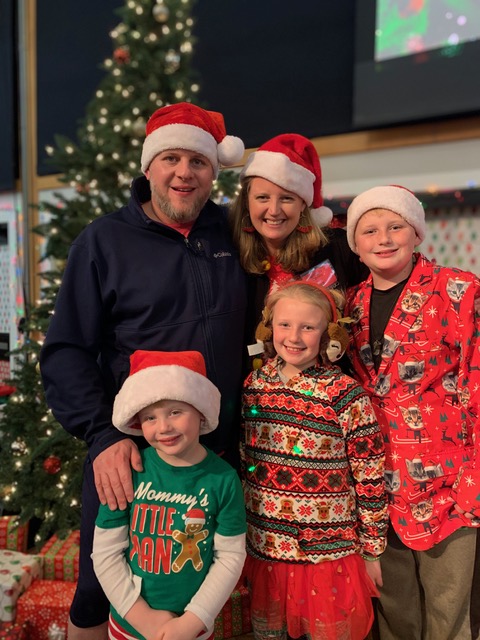 Barnes family photo at the Bluffs New Year's Conference
It's an encouragement to see your expectant willingness as you look for the Lord at work in your daily life. What is your favorite thing about who God is?
He has control of all things. He is sovereign. There are so many hardships and changes, so I love knowing that He is on His throne and nothing can take that away. God's steadfastness is not a human character and it's not something that anyone else can display. It is solely for Him. 
A lot has happened at camp since you were a counselor. How do you feel about the growth and changes at Pine Cove?
Pine Cove's identity and message have absolutely remained the same through all the growth and success. Who Pine Cove is has never changed. There's a small part of me that misses the old days when our whole summer staff could fit in the Ranch gym. The community among the summer staff at Shores was so sweet during that time! It's harder to know everyone at all the different camps now, but it's wonderful knowing that more people can experience Pine Cove. More counselors, more staff, and more campers!
Amanda and her husband, Chad, summer 2004
What sets Pine Cove apart?
It's Jesus. It's Christ. It's the way that the leadership wants to honor Christ in everything they do. Whether it's how you answer the phone, set the budget, or everything else. It's just so cool to see how they let Christ infiltrate in every aspect.

No place is run like Pine Cove. The joy that is there, and the love they have for people is special. I have felt valued as a staff member by authority and from leadership. You don't find that anywhere else. Across the board, you're important, you're loved, and you're needed. 
Jenny "Special K" Lay and Amanda, summer '03 at the Bluffs
So what does Pine Cove look like through Amanda's eyes?
There are so many details that have to happen for Pine Cove to what it's made to do.
It's such a cool picture of the body, in that every single part of it is important.
For one 15-minute conversation with a camp counselor to happen, there is somebody who has already talked to mom, reassuring her and letting her know everything is going to be okay.
There is another person who has entered them into the camp system. 
On opening day, there are counselors lined up, jumping around with joy all over their faces. 
There is somebody handing out water to that staff the whole time.

When the week comes to a close, the staff is cleaning up all the silly string pieces along the line. Picking up the silly string is not a stagefront job, but it requires steadiness of heart.
We want to honor and glorify Christ in everything that we do, whether it's how we take care of our property or having individual hangtimes with the campers. At Pine Cove, it's all important.