Updates for Summer 2020
We've reviewed this content in light of other camp adjustments we've made for summer 2020 and all this content is still accurate. Everything is the same for the cabin mate process, but please note that if you switch weeks, your friend group does not come with you. After switching weeks you must go into your account and re-invite your friends to join your group.
What's just as fun as coming to Camp in the City? Coming with a friend! Sometimes the easiest way to convince a camper who might be a little hesitant to come by themselves is to make sure they are in the same friend group as someone they already know.
First, a little vocabulary. Even though day campers come home each night, we like to stay true to our roots and still use the term "cabin" to describe our groups of seven to eight campers of the same gender. Within a cabin there could be one or more friend groups. There are tents set up that we use for pick-up in the afternoon, and each tent contains two or three cabins.
Plenty of campers (around 70%) come without being part of a specific friend group, which is great! Camp is an amazing place to meet new friends and try new things in a safe environment. When we assign cabins, we are mindful of the number of groups and with the number of campers coming by themselves. Balancing the needs of all our campers is important and a responsibility we take seriously.
To help balance these needs, and create cabin unity, we have two rules for friend groups:
Up to four campers can be part of a group. No more.
There can only be one grade difference between all the members
For example, Elliot is in fourth grade. He invites his fifth-grade friend, Hayden, to be in his cabin mate group and Hayden accepts. Now, there are fourth and fifth graders in this group. Elliot would like to invite his friends Justin (third grade), DJ (fourth grade), and Hamilton (fourth grade). Elliot is a popular guy, but he cannot have a group of five so he can only invite two more friends to be in his group! Justin is in third grade, and the group cannot have both third and fifth graders, so Justin cannot be added. So Elliott will invite DJ and Hamilton to be part of his cabin mate group, making it a complete group of four.
Here's the why behind these rules: have you ever been the awkward third wheel on a date? Or traveled to an event and been the only one who didn't know the others going? We work hard to build unity within the cabin over the course of the week and it's hard to do that with one or two people left out. Capping our friend groups at four campers max makes sure that one group of friends doesn't dominate the cabin experience.
In addition, the maturity differences between a third grader and a fifth grader can be large, which is a challenge to cabin unity. As grade gaps increase, so do the chances of bullying, for which we have no tolerance. So everyone in a friend group needs to be within one grade of all the others.
From our scenario above, what about Hamilton? Will he ever get to see Elliot? Of course! There are plenty of times everyone is in the same area, so they'll see each other regularly.
We want every camper to have an amazing week and a huge part of their camp experience is their cabin community. Your camper will meet some new friends, grow closer to old friends, and bond with their cabin as they go through the week.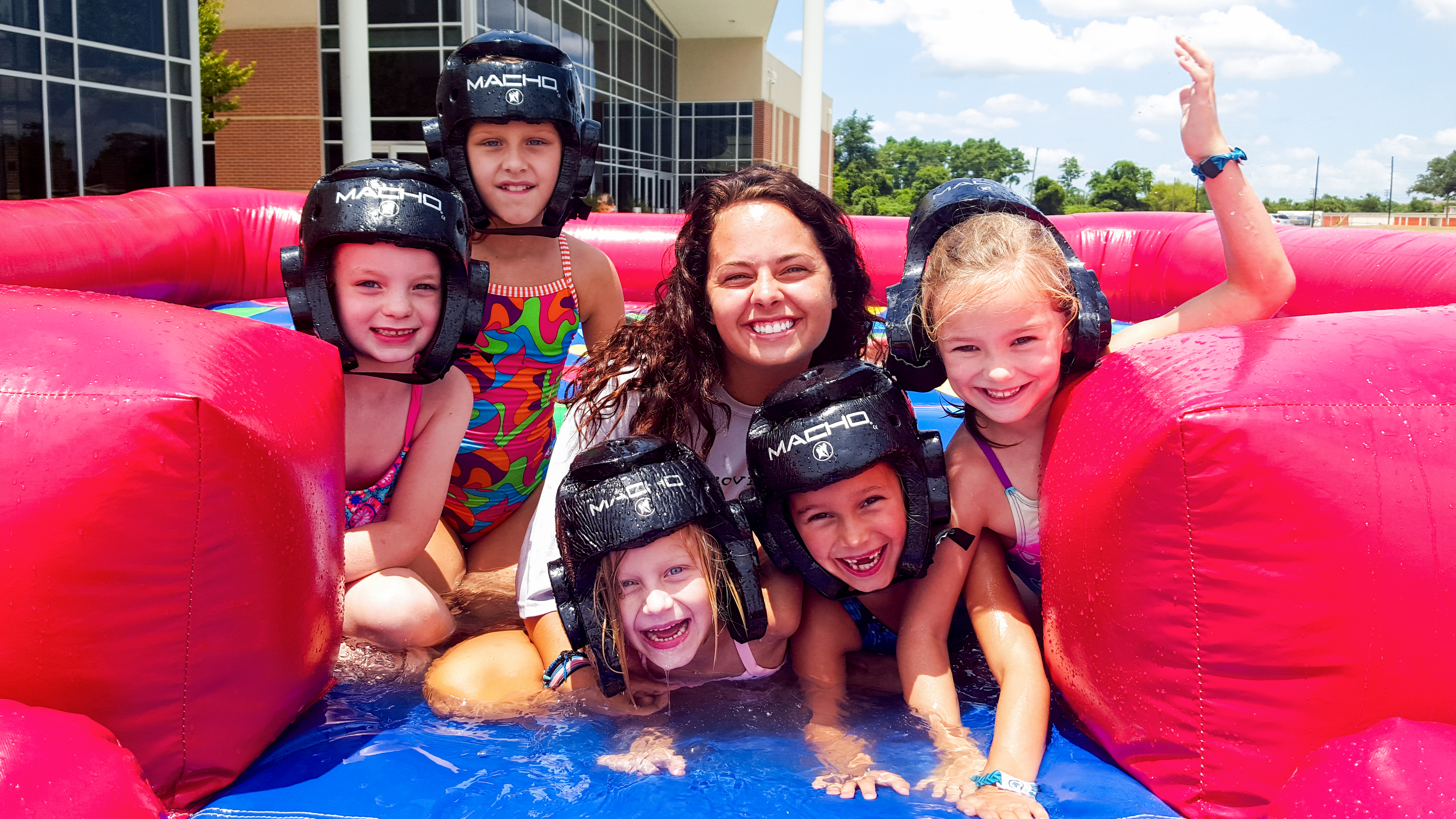 How to generate and use friend group codes
Friend group requests must be completed by midnight on the Tuesday before the camp session starts. On Wednesday we are finalizing camper assignments into cabins.
Step 1: Generate a Code
Spider Man is coming to camp and he wants to be in the same friend group as his friend Iron Man. We like to stay close to our roots, so this is called a "cabin mate" request. After he logs in to his account, he finds the cabin mate request area in the optional forms section and clicks "edit."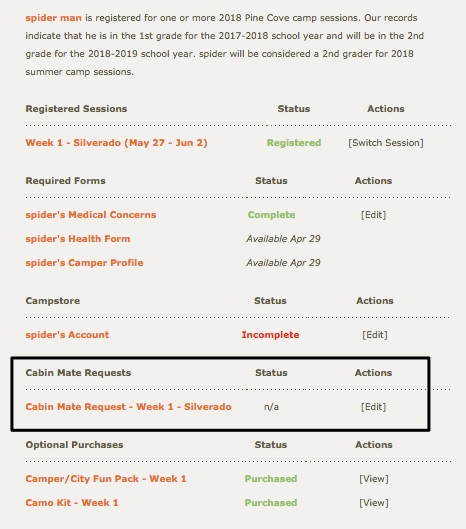 Spider Man is initiating this friend group, so he leaves the "Create a Cabin Code" radio button selected, and then clicks on the "Create Cabin Code" button.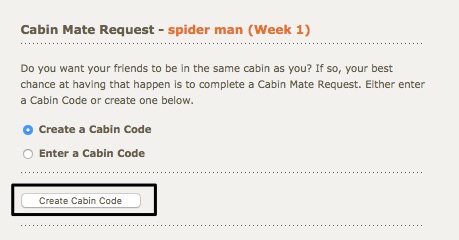 Spider Man now has a unique code for his friend group. He's listed as being in the group, and can choose to share that code with Iron Man however he wants. For convenience, he could put in Iron Man's email address at the bottom to send that code to him, but Spider Man likes being fast, so he copies that code and texts it to Iron Man.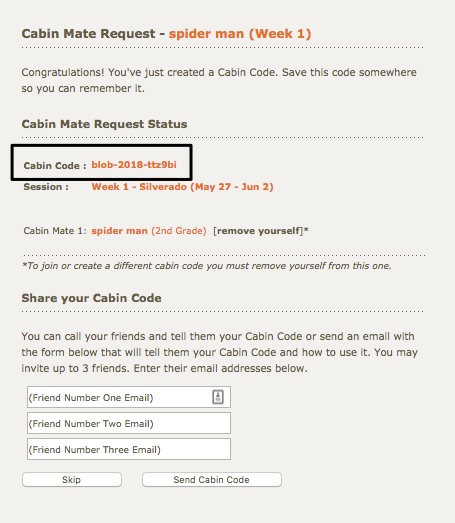 Halfway there!
Step 2: Input a Code
Iron Man got the code from Spider Man's text and can't wait to use it! He logs into his account ready to use his code, and clicks on "edit" in the Cabin Mate Requests section.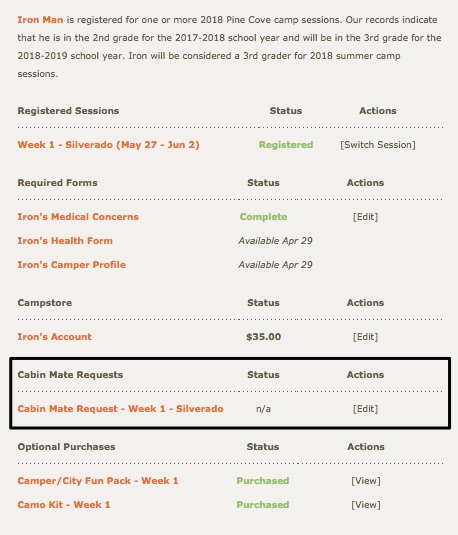 He clicks on the radio button to choose Enter a Cabin Code, then pastes the code into the box below. Then he clicks on the View Cabin Mates button.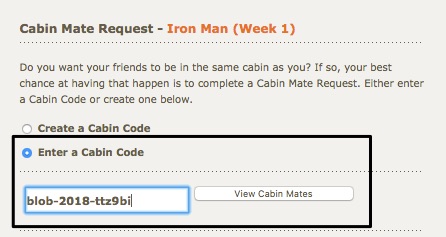 This brings up an info screen showing that Spider Man is in the group. To finish, Iron Man clicks on the Request Cabin button.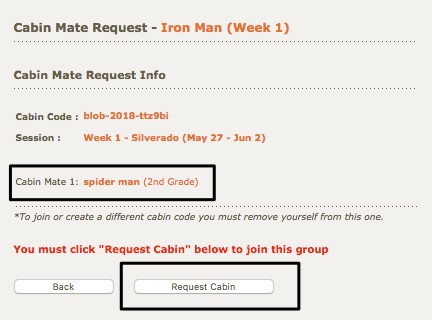 Success! Iron Man can now see that he is in the same friend group as Spider Man!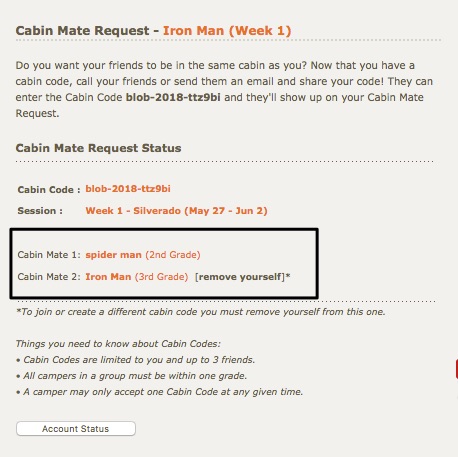 Iron Man or Spider Man can also now see that they are part of a group from the status screen.