Let's be honest: Christmas shopping can be difficult, and sometimes coming up with an idea is half the battle! To help you out, we put together a list of suggestions that includes camp counselor favorites, full-time staff recommendations—and some local picks from one of our regions too, because we couldn't leave our favorite cookies off the list! From Bibles to hammocks and everything in between, you're sure to find something here that will be perfect for even your hardest-to-shop-for family member. Without further ado, please enjoy the 2018 Pine Cove Gift Guide!
1. Madewell Bandanas
Looking for a cute way to kick up your hairstyle? Our girl staffers are big fans of these fun Madewell Bandanas. Plus you can switch up your look by tying one around your wrist, or wearing it as a kerchief!
2. Pine Cove Sherpa Pullover
Stay warm in an incredibly soft, fuzzy gray sherpa pullover. Warm and versatile, you can bet you'll be seeing plenty of these at Winterfest this year!
3. Dear Mushka Jewelry
We love the jewelry from Dear Mushka, which pairs Bible verses with beautiful, delicate necklaces, bracelets, and earrings. This is a wonderful way to incorporate more Scripture into your day!
4. Crocs
Believe it or not, Crocs are back! Crocs trended big time at Pine Cove this summer, so this is an easy way to bring that campy vibe to your house. (And don't forget to personalize your pair with some Jibbitz!)
5, 6. Socks
A Christmas gift cop out? Not at all, as long as you're finding the perfect pair, like these Happy Socks (5) or these Space Jam socks (6)!
1. She Reads Truth Bible
A Bible makes for a very special gift, and there a lot of really great options out there for you to choose from! We are big fans of She Reads Truth, and they make fantastic Bibles that are intentionally designed with reading plans, maps, and verse art.
2. Journaling Bibles
For an option with room for notes in the margin, check out these journaling Bibles. The text is presented in a single-column format, perfect for adding notes beside specific verses.
3. One Year Bible
If you're looking to read the entire Bible in 2019, the One Year Bible offers an easy-to-follow reading plan that will take you through excerpts of the Old Testament, New Testament, Psalms, and Proverbs each day.
4. May Designs Notebooks
Looking for a 2019 planner with style? We love these May Designs that let you customize the look of your notebook! Plus they have some really cute holiday designs!
5. Full Focus Planner
Popular with the full-time Pine Cove staff: this Full Focus Planner, which is designed to help you set and achieve goals, and will keep you focused and on track all year long!
6. Loved: The Lord's Prayer Children's Book
We hope you already have the Jesus Storybook Bible by Sally Lloyd Jones, which brings scripture alive in words kids can understand. We also love all of her other children's books, like Loved: The Lord's Prayer, a board book that teaches kids how to talk to God.
7. Kindle
For the reader: try a Kindle Paperwhite (they're waterproof now!). It's perfect for someone who travels a lot and doesn't want a little rain (or a pool) to get in the way of their reading time.
For a list of other books we recommend, check out our staff recommendations.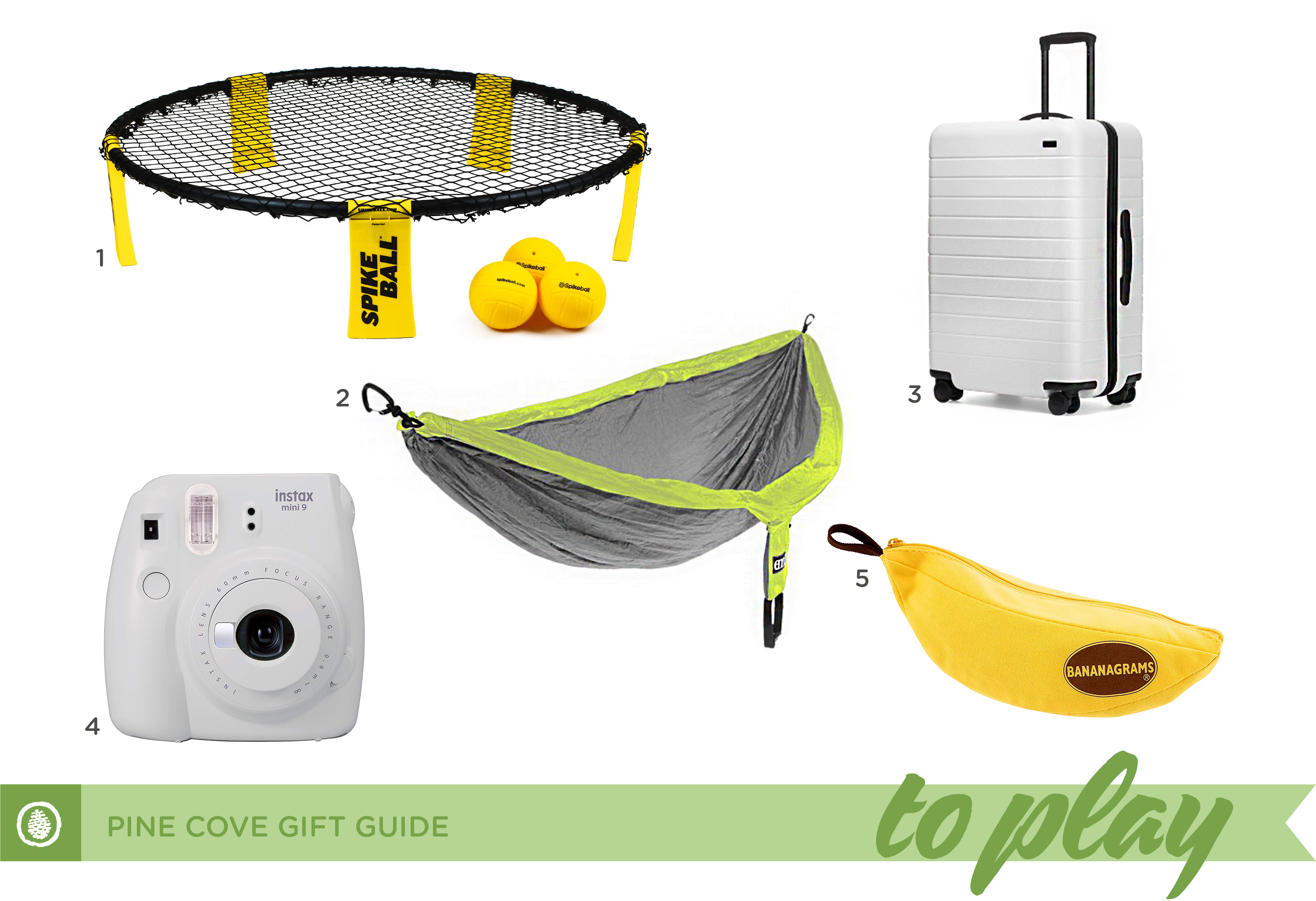 1. Spikeball
One word: Spikeball. This activity is an all-time camp classic, and we know your family will love spending hours outside playing this fast, fun, and competitive two-on-two game.
2. ENO Hammock
For those perfect, sunny, 75-degree days: you can't go wrong with a hammock you can fold right up and stick in your backpack. Our favorite? The ENO.
3. Away Luggage
Need a luggage upgrade before your next vacation? Away offers some really cool suitcases and carry-ons that are trendy and customizable. But the best part? With its built-in battery pack, you'll never be without a way to charge your phone!
4. Instax Mini Instant Camera
Super cute and super trendy, this mini instant camera is the perfect way to help you capture memories without a phone—which makes it perfect for camp!
5. Bananagrams
Know someone who's competitive AND wordy? You can't go wrong with a classic like Bananagrams. It's easy to transport, a family-friendly crowd pleaser—and it's under $20!
Looking for some more board game options? We've got you covered.
1. AeroPress
The coffee lover in your life will love the AeroPress Coffee and Espresso Maker. It's a simple, delicious coffee maker for people who want to get an upgrade! Bonus: this little buddy is great for traveling and camping because it's so compact.
2. Sister2Sister Cookies
Who doesn't love cookies? A local favorite in our East Texas Region is Sister2Sister! The Pine Cove staff is always delighted when these make an appearance at events, and we know you'll love them too. Our favorites: chocolate chip and snickerdoodle!
3, 4. S'well & Hydro Flask Water Bottles
Let's be honest: summers in Texas and South Carolina are hot, and our staff have become experts in the best water bottles around. Two of our favorites are the S'well (3) and the Hydro Flask (4). Both keep water cold all day—without sweating. Plus they're super sturdy, and each comes in a variety of colors/styles to make even the pickiest person on your list happy!
Also recommended: a "Flex Boot" for your Hydro Flask bottle so it won't be as loud if dropped or set on a table. (All the summer staffers loved these!)
5. Janie's Cakes
Another East Texas favorite: Janie's Cakes! We've never had anything less than a wonderful, delicious experience with these sweet confections, which would make for a perfectly unique—and filling—gift for a loved one.
6. Molly Hatch Icon Mugs
If you couldn't tell, we're big fans of coffee around here! And we love a stylish mug to sip from. This charming collection of mugs featuring real animals, mythical creatures, and everything in between (Are narwhals real? We can never remember.) would be a big hit with anyone on your list!
7. Porch Culture Coffee Subscription
Your days of running out of coffee and going without caffeine are over. If you're missing the Foundry, a common hang-out spot for our summer staff in East Texas, you can get their exact coffee delivered wherever you are!
1. Parabo Photo Prints
Giving someone real estate on your Instagram is great, but real photos that you can hold in your hand really take it up a notch! Print your favorite pictures and give them out as little squares, larger fine art prints, or even big newsprints.
2. Magnolia Candles
When it comes to gift-giving, you can't go wrong with a candle! We're big fans of Magnolia's beautiful and delicious-smelling candles for every season.
3. Printable Animal Wall Art
There's a lot to love about Pine Cove's new headquarters, but some of our favorite touches are these dapper animal prints! Grab your favorite scholastic animal and hang him in a place of prestige (we have the wolf, raccoon, squirrel, and rabbit prints here at our office!)
4. Houseplants from The Sill
We've got the dirt on the best way to send a unique gift: live plants from The Sill. With a wide range of options from 'pet-friendly' to 'easy for beginners' (praise hands!), they'll help you find the plant that's right for you—or whoever you're gifting one to!
5. Vintage Letter Boards
Spell out just how much you love someone by giving them one of those cool vintage letter boards you've been seeing everywhere!