We can hear the Christmas carols in the distance and staff are starting to string up lights and put up decorations – Winterfest is almost here! Here's everything you need to know to make sure your camper is totally ready for Winterfest weekend at Pine Cove (and you are too!).
Drop off / Directions
Drop off campers on Friday at 7:00 pm at their camp. Need directions? Find them here. Make sure campers eat dinner before they arrive! We are not serving dinner on Friday night. Our staff can't wait to welcome everyone and help them get moved into their cabins.
Pick Up / Closing Celebration
In East Texas, all closings are at noon. In Central Texas, the Ridge closing is at 11:30 am, Silverado closing is at noon, and Outback closing is at 12:30 pm. We recommend planning on getting to camp half an hour early so there's time to park and get settled. At closing celebration there is a short message from the camp director, carols with a Pine Cove band, and parents can visit with their camper's counselor!
Update Forms
We need to get updated or brand new medical information for each camper to make sure we can take the best care of them. Log in to your account and update the medical and profile forms if you've come before or fill them out for the first time if you're brand new. These forms are due on Sunday before Winterfest.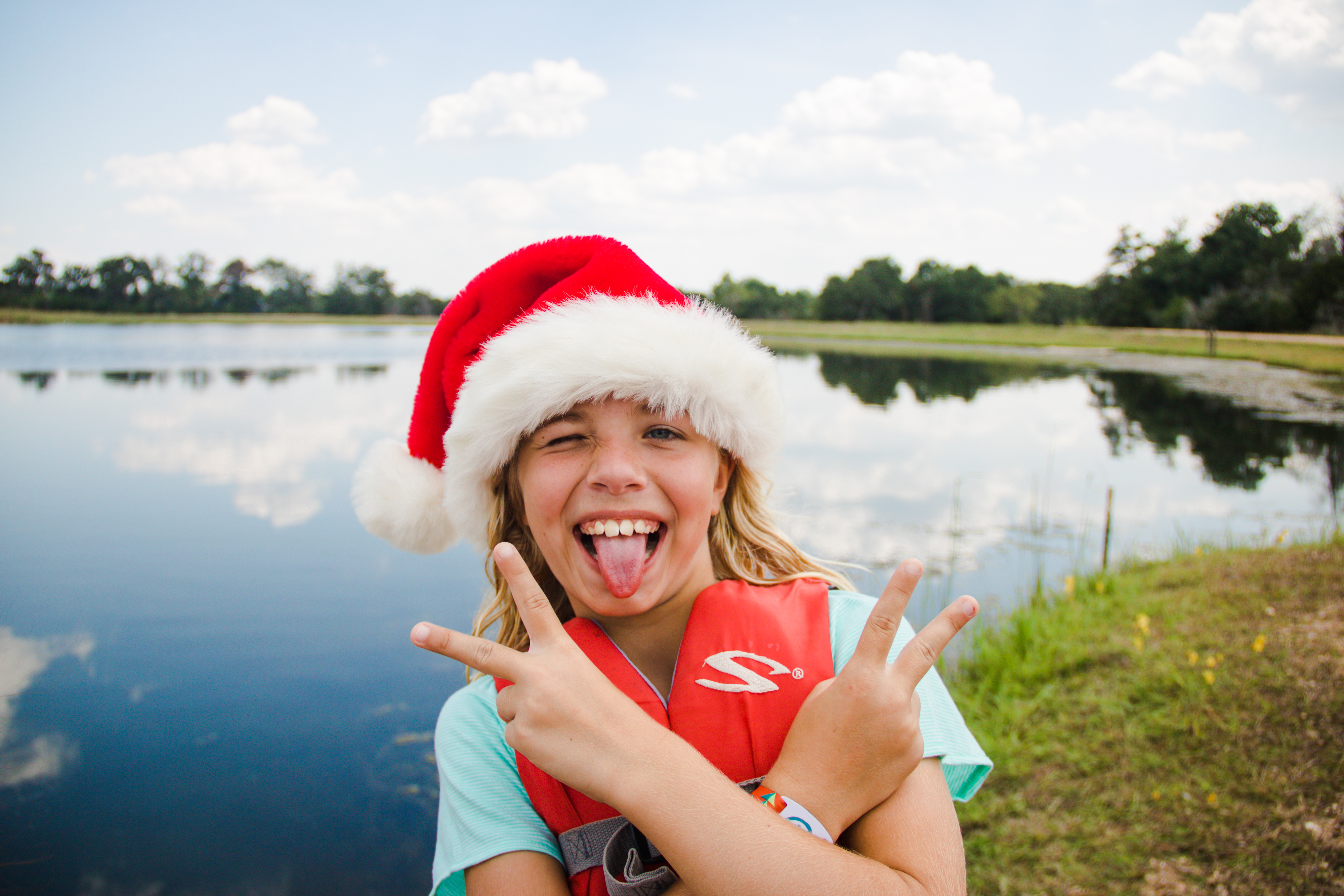 Packing List
Since it's a short stay, this is a short list! You can probably fit everything into a large backpack. Since this is Texas, make sure to check the weather before you pack. Some years we do Winterfest in shorts; other years we're wearing puffy jackets and gloves!
twin bedding / sleeping bag
pillow
towel
toiletries
pajamas or sleeping clothes
clothes that are easy to move in (and can come home a little dirty)
festive Christmas attire
theme night attire (if needed, see below)
closed-toe shoes
water bottle
Bible
journal
pen
flashlight (optional)
any prescription meds in their original packaging (see more info on medication below)
Want a printable version? See this year's packing list here.
Does your camper need to bring something for a theme night while they're at Winterfest? Here's a look at what to expect at each camp:
Towers: Camo Night
Ranch: Camo Night, Christmas-Themed All Camp Game
Timbers: No Theme Night
Shores: Christmas-Themed Dance Party
Silverado: Camo Night, Dance Party
Outback: Camo Night, Dance Party
Ridge: No Theme Night
Whether or not your camp is having an official theme night, we encourage our campers to embrace the Christmas season and come with any festive apparel they might have! From holiday t-shirts to Santa hats, anything and everything Christmas-related will be sure to be in fashion.
Medication Things
Please leave all non-prescription medications (vitamins, essential oils, nutritional supplements, etc.) at home for the weekend, except for over-the-counter allergy medications that campers already take on a regular basis. Pine Cove stocks many over-the-counter medications that we can administer to campers as needed.
All prescription medication must be in its original container / bottle and must be current. By law, we cannot give out expired prescriptions. Also by law, we can only give the prescribed or recommended dose of medication to a camper, based on age and weight. Please verify this before coming to camp.
The first time we give out meds is bedtime on Friday. The last time we give out meds is Sunday morning, but only for prescription medication.
There are lots of meds questions (What can they carry with them? What about essential oils? Can I send melatonin?) and we've got a guide that covers it all, as well as a full list of all medication Pine Cove keeps on hand. Read it here.
Any other questions? Email nursemanager@pinecove.com and they'll get you answers.
Cabin Mate Requests
Do you
 want to come with a friend? If the genders and grades fit, we can help make sure up to four friends are in the same cabin together. For more info on how to do this, see our guide to cabin mate requests. It's written for summer, but all the information is the same for Winterfest.
Cabin mate requests must be completed (generated and accepted) by midnight on the Tuesday before Winterfest starts.
Camp Store
Just like in the summer, the camp store is available during Winterfest. We keep the store stocked with snacks, drinks, t-shirts, and other Pine Cove gear. You can add money to a camper account by logging in and adding as much or as little as you want. The store will also be open on Sunday after closing celebration.
No Official Winterfest Shirt
For the past few years we have offered an official Winterfest shirt for sale before Winterfest and at camp. This year we do not have an official Winterfest shirt, but the camp store is fully stocked with plenty of great sweatshirts, pullovers, blankets, and other cold(er) weather gear you'll love.
Camp for Even Longer
We're so excited about the Winterfest experience, but don't forget we also have even longer experiences in the summer, for both one and two weeks. Want to sign up? Log in and add a new session for summer, or call us at 877-474-6326.