If we had to choose a favorite season of the year, it would 100% be summer, for obvious reasons! But fall comes in a close second place. There's a lot to love about the lower temperatures, the changing leaves, and of course, the football.
Our camp teams spend a lot of the fall out on the road, specifically at college campuses all over Texas and the Southeast. Several years ago, our recruiting team decided it would be a fun idea to make an annual Pine Cove tailgate at a select school or two. The tailgates create great opportunities for staff reunions and to build some hype for prospective staff to apply for the next summer.
This fall, we've had even more tailgates, and we've gotten to connect with even more staff! So far, we've had one at Baylor (September 22), one at Georgia (September 29), and one at Texas A&M (October 6th). There's still one more scheduled at Auburn on November 3rd, so if you're near Auburn or up for a road trip, mark your calendar now!
We loved our first official staff tailgate at Baylor, and tons of people came out for it!
Oh, did we mention there were puppies at the Baylor tailgate? A local exotic pet store was able to bring out five adorable puppies for anyone to play with, cuddle, and pet. Because what brings out college students more than free food plus puppies to cuddle?! There was a huge crowd around the puppies the whole time they were out there, which of course surprised no one.
This was our first year to have a tailgate at Georgia, and it was a blast!
Since Texas A&M is home to the highest number of our Pine Cove summer staff, we have hosted a giant tailgate there once a year for many years, and it has turned into one awesome reunion!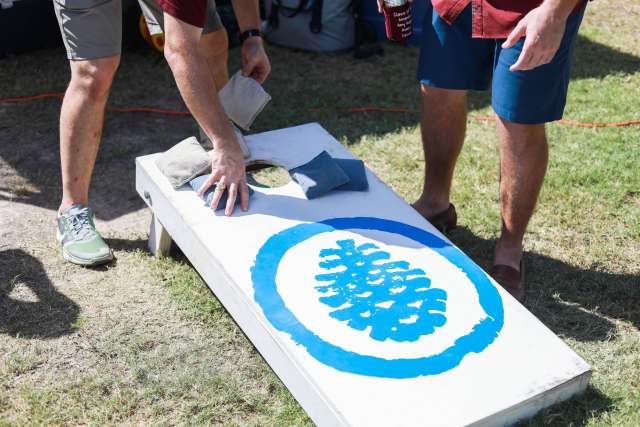 Thanks to everyone who came out to these tailgates! It's always fun to connect with our college staff during the non-summer months, and don't forget to mark your calendars for the next staff tailgate at Auburn on November 3rd, when the Tigers play Texas A&M!
Know someone who would be a great fit for Pine Cove summer staff next year? There's still time to get their application in! Pinecove.com/apply