Valerie "Ouch Potato" Morby is just straight up fun. You probably don't know it, but you've been reading her writing for years on our Pine Cove social media channels, websites, and emails. She's a celebrator, has the best party decorations, surprises her team with doughnuts, and has been around Pine Cove since 2008 in marketing, engagement, and communications-related roles. Get excited about learning more about Valerie!
What's your current role?
I am Pine Cove's Social Media and Copy Manager! I get to lead our efforts on social media, which involves posting content to our main Pine Cove accounts as well as overseeing the team that runs the individual camp accounts. I also write and edit a lot of Pine Cove's communications, from emails and blog posts to magazine articles and physical letters.
You do so much of our writing that we joke you're the "voice of Pine Cove." If Pine Cove was a person, what do you think they'd be like?
Pine Cove is like a really upbeat, cool RA. Or maybe your favorite babysitter. Anybody that is someone you'd want to spend time with who is also ultra responsible, if that makes sense! Depending on the audience, Pine Cove is conversational, sometimes makes little jokes, and wants to make you feel like an insider. A lot of the time we are channeling a Pine Cove director making announcements from stage at camp—a great mix of funny, informative, and concise!
How did you end up at Pine Cove?
My siblings and I were all Pine Cove campers for years—I was actually at the Shores for its very first summer! Then my sister (Ginger "Tuck-N-Whoa" Ciminello) served on summer staff as well as full-time staff, so I've kind of always been around camp. After college I really wanted to live in Tyler and applied to work at Pine Cove! I started out in our marketing department before transitioning to our media team, now known as Strategy and Communications.
Tell us your camp name and your story!
So first of all, I'm a big fan of movies—that's actually probably one of the first things you'd learn about me if we met in person. I also have a story from when I was about five years old, when my sister and I were falling off the back of a couch and onto a bean bag chair. There was a miscommunication and my sister moved the bean bag chair out of the way right as I was falling, and I landed head-first on a tile floor and ended up needing stitches. Put it all together and I'm "Ouch Potato!"
It's a well-known fact that you love Broadway. Why do you love Broadway so much and do you have a favorite show?
There's just nothing like live theatre—Broadway specifically. I've seen about 30 different Broadway shows, and I still get chills every time the house lights go down and the overture begins! Then they're singing and dancing right in front of you, and there's a joy that comes from seeing these performances live, or hearing the very person who made a song popular sing it in person for you. The best is when you are so locked in to what's happening on stage that you start grinning so much you feel like the sun is shining directly out of your face. Then you somehow feel like if you lean just a little further forward you would fall directly into the show. Pure bliss. It's the best.
My favorite Broadway show of all time is "Newsies." I saw it twice on Broadway and then another four times on tour! It's my absolute favorite, I love it so much.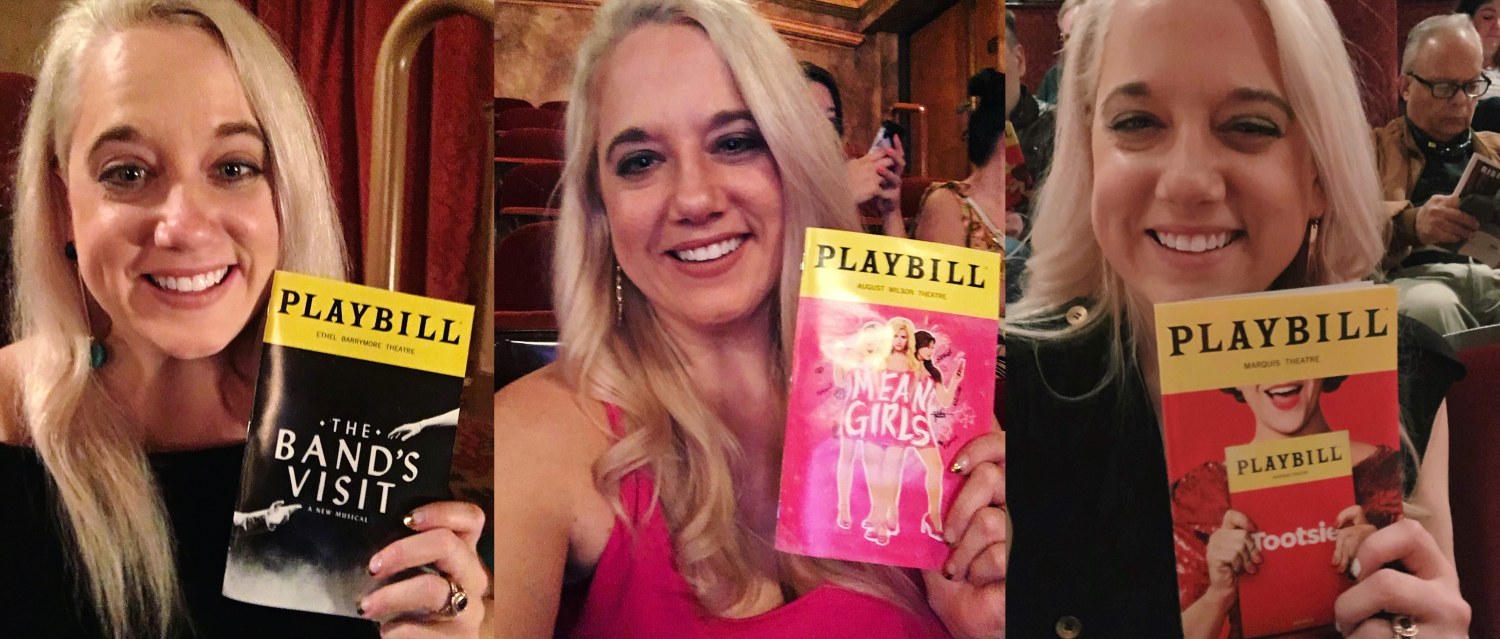 Give me the rundown of your ideal day in New York.
Oh man. Okay. I'd start with breakfast at my favorite spot, Buvette, in the West Village. After that I'd head to a museum I've never been to before, and then spend some time in Central Park. I'd eat lunch at Valerie or a hole-in-the-wall pizza place before catching a matinee of a Broadway musical. From there I'd check out some of the theatre-themed shops around Shubert Alley before going to… a second Broadway show! I'd end the day with a late night dinner at Joe Allen's, a great restaurant in midtown where the walls are covered in amazing posters of Broadway flops.
How do you see social media as an extension of our summer ministry?
It's a point of connection, reminding campers and staff of their time at Pine Cove and what they learned, reinforcing lessons, and sharing Biblical truth. And I want to connect them not only to camp, but also to each other. Pine Cove exists to be used by God, and Pine Cove's social media also exists to be used by God! He can transform lives anywhere and through any tools or methods, including Instagram and Twitter. We are lucky to have a very passionate group of followers who really love Pine Cove a lot, and I don't take that for granted!
What are some of your favorite things right now?
Movie theaters finally being open again. Pine Cove's new gif stickers. The podcast "The Friendship Onion" hosted by Dominic Monaghan and Billy Boyd. Iced shaken espresso from Starbucks. "New Morning Mercies" by Paul David Tripp. Obscure emojis. "To All the Boys I've Loved Before." Smoothie King. All the Marvel shows on Disney+. The song "In the Hands of Christ My King" by Austin Stone Worship. Lavender nail polish. The Broadway musical "Six." The beach.
What's your favorite Bible verse?
My favorite Bible verse is Zephaniah 3:17, which was actually a verse I learned about as a high school camper at the Shores! This picture of God loving us so much that He delights in us and sings over us is just so beautiful. I think it's easy for us to doubt that the Lord—in all His mighty, infinite, sovereign glory—not only loves us but delights in us! And we see in this verse that He doesn't love us out of obligation or anything—it's not a begrudging love. He loves us so much He's out there singing and shouting in joy over us! Beautiful.
What are some things you've written that you're particularly proud of?
I love this question, because I really do love writing for Pine Cove. My favorite thing EVER was probably the staff "survival guide" that Kristen Murphy and I (also known as "Team KAL!") created for the summers of 2015 and 2016. My favorite story is probably Camp Quarantino. I had a lot of fun (and I think it shows) writing Slime, Puka Shells, and Crocs: Summer Trends at Pine Cove and Rock the Dock. I'm proud of Why We Should Love—And Why We Don't, because the assignment for that article was pretty general and I like how it turned out. Also this probably sounds insane, but I actually really love the Important Registration Dates piece from 2019, simply because I felt like I was able to take a pretty dry subject and make it a lot of fun.
You've been on staff for a long time now. What keeps you at Pine Cove?
Short answer: the Lord! He has kept me here for over 13 years now, and it's a privilege to serve Him by serving this ministry. Long answer: so many reasons! I care about the work I'm doing; I work really hard because I know how God uses Pine Cove to transform lives and marriages and families and staffers. I want to do my part to not only get them here, but also to make them feel heard and valued and served once they're back home. I love knowing my talents are being used for God's glory. Plus there's a lot of variety in my job, which is a joy for an Enneagram 7! Our team gets to put together magazines like Transformed, produce the Pine Cove podcast, and create content for Inside the Cove, among other things. And of course I get to come up with interesting things to post on social media every day!
Also: it's really fun to work for Pine Cove! Even though I'm in our headquarters and not physically out at camp, we have a lot of fun here. I have an amazing group of coworkers and it's such a blessing to get to come and work here every day.