Katie "MapQuest" (Massinger) West has been part of the Pine Cove family for as long as she can remember. Her Pine Cove story began before she was born and spans the 80s, 90s, 00s, and still continues! Let's walk down memory lane with her through the decades and have a look at how camp has changed, and how the timeless lessons and serious fun still remain!
1980s Camper Katie:
It all began when my parents attended Dallas Baptist College and were in a choir that sang at the dedication ceremony of the original Woods dining hall in 1967. My family began attending family camp in about 1979 and my first summer was 1983 when I was nine months old!
This photo is from 1981 but I remember this snack shop at the Woods. Not pictured (but equally memorable) is the bright orange linoleum floor!
One of my earliest memories as a camper is asking Mr. Moose questions in the Woods dining hall. Dan "Yodel" Bolin was the voice and he would answer pretending he was Mr. Moose. Kids would ask, "why does your mouth not move when you talk?" "Because I don't want to mess up my moosestache."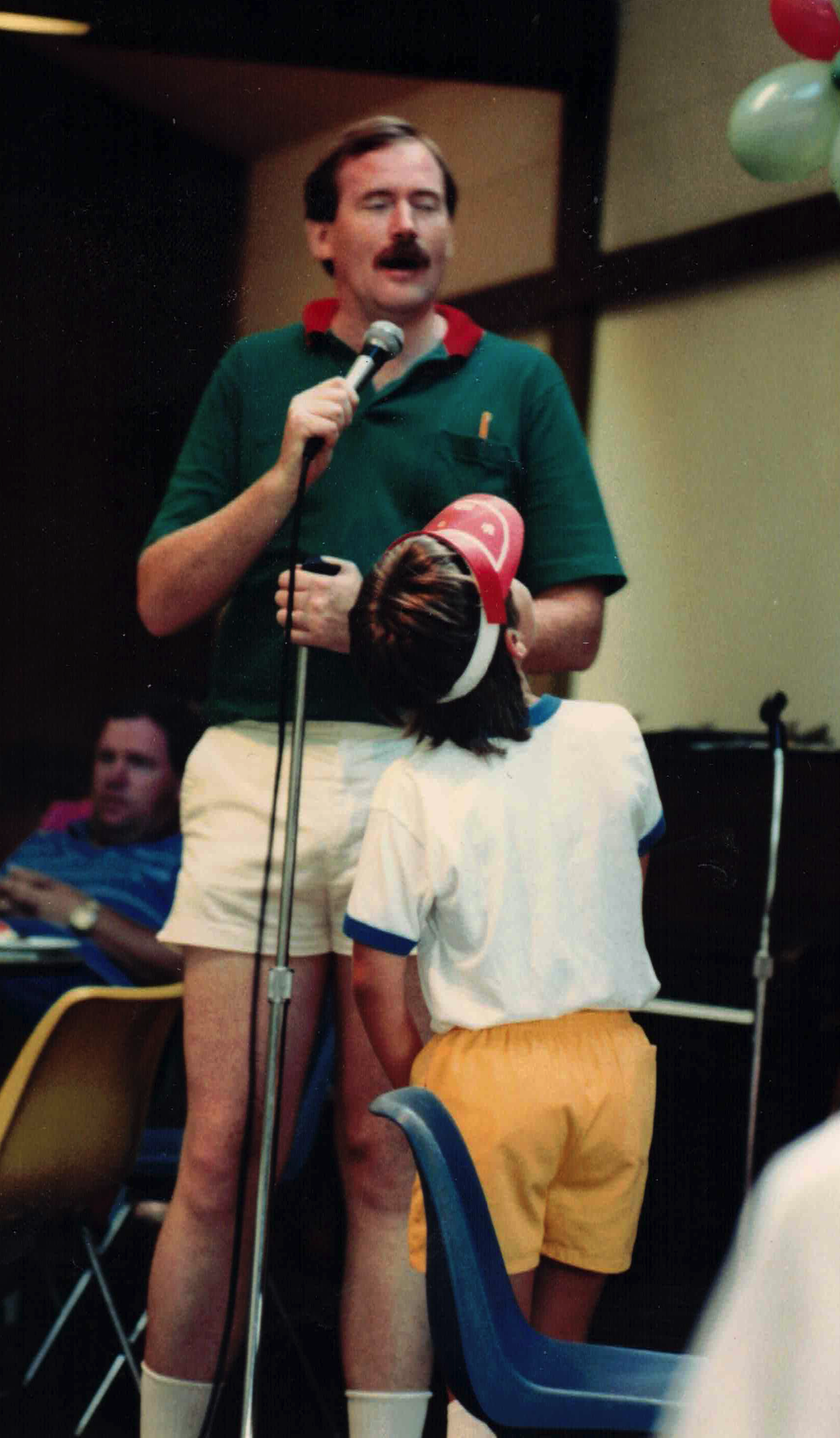 My brother, Martin "Over Easy" Massinger, talking to Dan "Yodel" Bolin during Mr. Moose.
The talent show is a family camp tradition. This is my sister, Johanna, and I singing in the show in 1988.
One of my funniest memories at family camp is when two counselors (Whiskers and someone else) did a breakfast skit where we had to try and make them laugh. People would dump orange juice on their heads, stuff sausages up their nose, and they would never laugh!
Woods skit from 1980s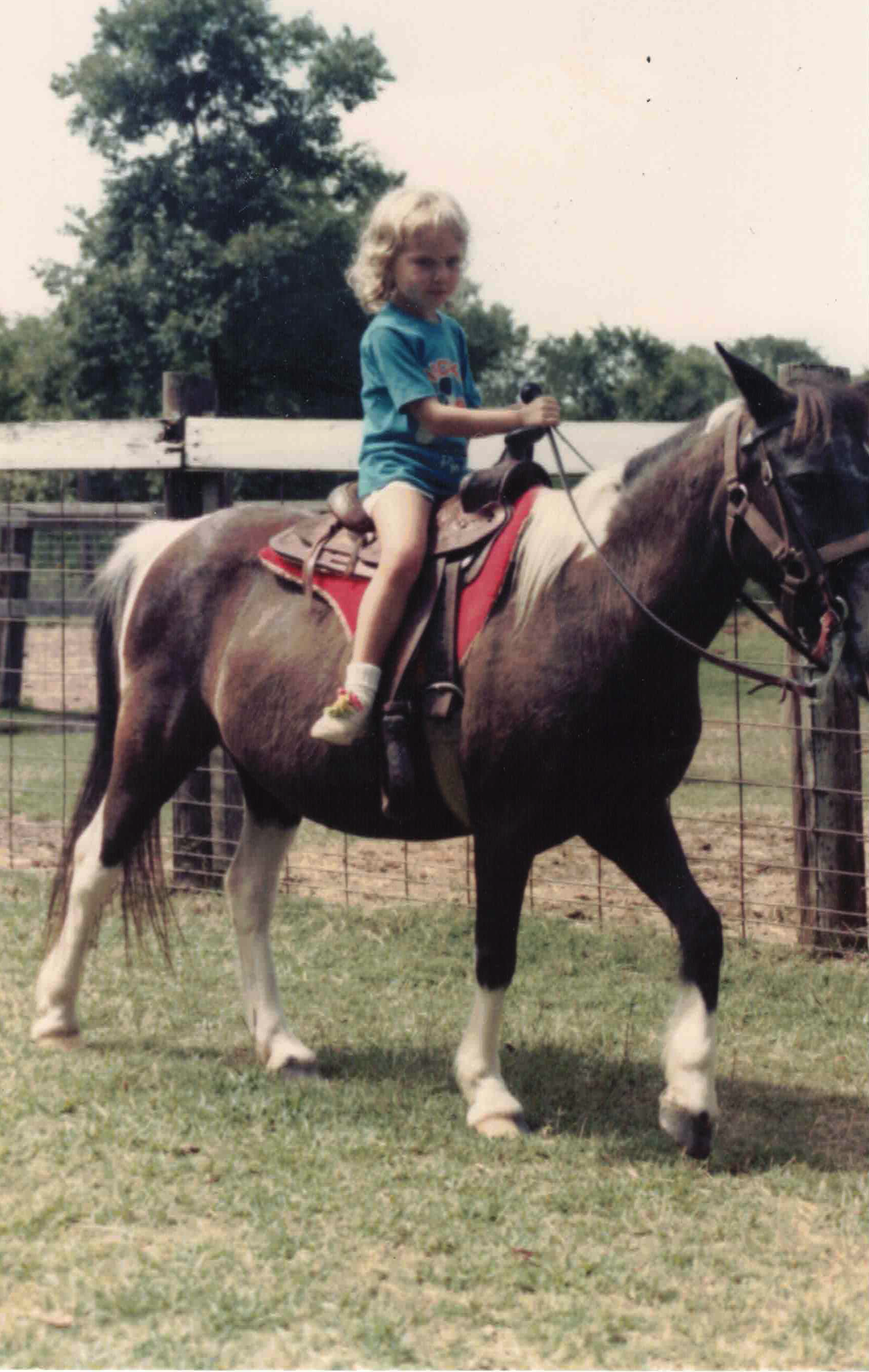 This is 1987 and that's actually a Pine Cove shirt. They did Mickey Mouse shirts one summer.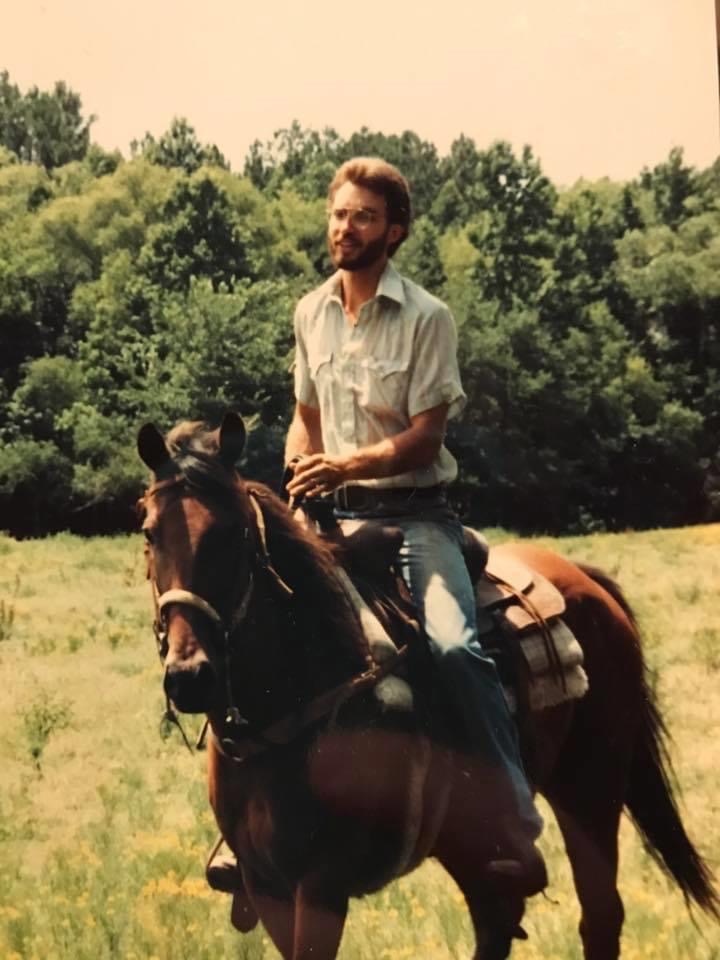 Tim "Swanee" Alderson in the early 80s.
1985 Sam "CoonDog" Moreton on low dive during Hawaiian Luau night.
1990s Camper Katie:
My dad came out to camp a couple of times a year to take pictures of camp for the brochures. (Back when camp actually had paper brochures!) My dad was a graphic designer and would design for camp and in return we got to go to camp as a family. I started attending youth camp in third grade in 1990.
This is my cabin and counselor, Back Draft, in 1993.
One of the biggest memories that sticks out to me when I think about my time as a youth camper is my one-on-one hangtimes with my counselors. Even at the Towers, it was really impactful!
Ranch campers 1996—this is when Ranch was 6-12 grade.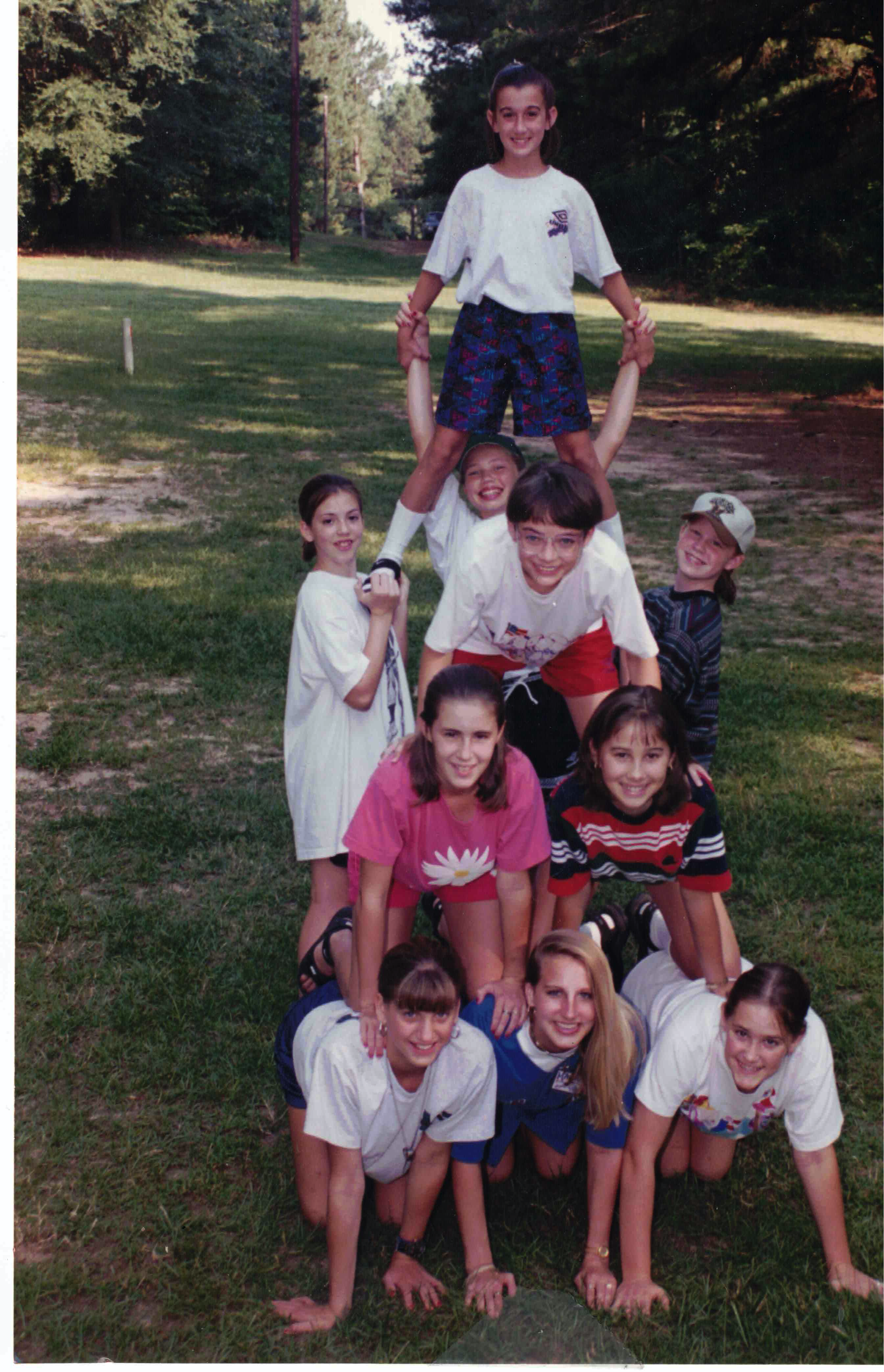 Ranch 1995 with counselor Mahookie.
Shores 1999: Several of these girls went on to work at camp: Mush Mouth (Shores) is far left, Cutie Pie (Woods) is far right, Two Scoops (Shores) is next to Cutie Pie, and Mapquest (Ranch) is in the back.
2004-2005 Summer Staff:
I was a counselor and boat driver at the Ranch 2004 and 2005. Dutch was the director and I had done lifeguard training so I assumed I'd be at the pool. He pulled me aside at Trailblazing and asked how I felt about driving boats. I said "Um…No? I've never driven a boat!" I was thrown a total curveball. It was probably the most challenging thing I've ever done besides being a parent. It terrified me and was way out of my comfort zone. And he told me that was why he picked me. The Lord used it to stretch me. Everyday I would say to the Lord, "Okay God, I'm going to trust you to give me the strength to do this!"
Ranch boat drivers in 2004
The biggest lesson I learned as a summer staffer is that I really couldn't do it on my own strength. The little quiet time in the morning in the Word was how I got through. Honestly, I don't think I would have survived a day without that time in the Word. They always say "it's not about me" and you're actually living it every day! It wasn't about my comfort or my sleep or any of that. The next morning you go to the Lord for Him to fill your cup again. And as a college student you're never doing that. You really have to live "it's not about me" and that lesson has carried with me now into being a mom 15 years later.
Ranch CowFu theme night 2004
My first summer on staff during my third week I was really, really tired. I completely lost my voice — no sound came out of my mouth at all. It was challenging as a boat driver. They sent another staffer, Liberty Bell, to lead my cabin Bible study. At one point, I went to say something and no sound came out but right then Liberty Bell said exactly the words I was going to say. And I realized that God didn't need me. He was faithful to speak Truth regardless of me. 
Ranch Orientation 2004
Alumni/Camper:
To pass the legacy on to my kids is not lost on me. We are so thankful that we are able to go to family camp. My dad passed away in April 2012 and it was a hard season. I told my husband that I wanted to go to camp (he had never gone to Pine Cove). We called and got on the waitlist. Maybe a few weeks before camp started we got a spot. Of course my kids fell in love with it! I can't believe I get to share camp with my family, especially at the Woods where I grew up.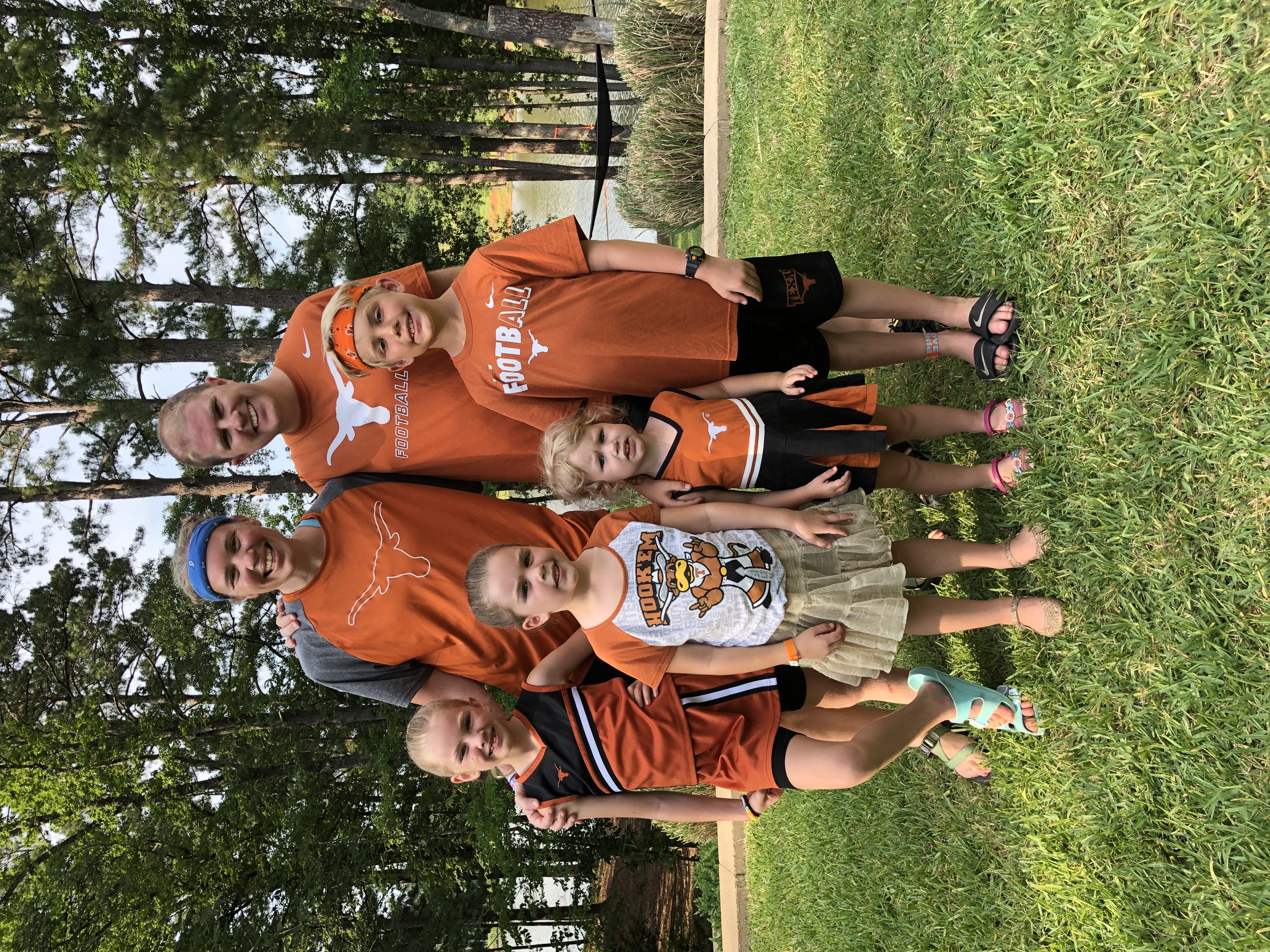 Katie and her family as campers at the Woods.