Dropping off your camper (what we call "opening day") at overnight youth camp can be a little overwhelming, especially for first-time parents. There's the mixed emotions about dropping off your camper, plus all the work of getting packed and loaded up, and then that sneaking feeling like you forgot to do something important. We've got your back! This in-depth guide to opening day covers everything you need to know to have a smooth and enjoyable drop-off experience.
Prefer a video version instead? Click here.
Check the map
Triple check that you are heading to the right camp and pull up the map on our handy dandy directions and addresses page. It sounds crazy, but we've had campers drive to the wrong camp on opening day, and some of our camps are a couple hundred miles apart!
Fill out your forms
You probably were on the ball and already did this, since forms are due a week before opening day. We want to take the best possible care of our campers and to do that we need to know some important information about them. Forms are available a month before opening day. If you did not complete them beforehand, you will have to stand in line and take care of these first thing when you arrive, and who wants to do that when there's so much other fun stuff to do?!
Load up the car
Our in-depth guide to packing covers everything you need to know to get the trunk packed and ready, but there are a few things we recommend keeping separate. Here's how we suggest putting everything in your vehicle:
Main area of the vehicle

Laundry bag with pillow, bedding, towel, and swimsuit (or just have your camper wear their swimsuit)
Meds in a bag separate from everything else (see our guidelines)

Back of vehicle / trunk area
Lots of families enjoy decorating the car windows with paint as a fun family activity before leaving. Then you can wave when you see each other on the highway traveling to camp!

Pull up to camp
Check our drop off and pick up page to figure out when we open the gates at your camp. You do not need to be at camp right when we open the gates, but you should know that a lot of returning campers get there early to be in line ready to go when the gates open. Bunks are first come, first served, so if getting a specific bunk is important to your camper you may want to arrive early. The line itself is a mini party!
If you have campers at more than one camp check the drop off times for each camp. They are not all the same time. We recommend starting drop-off with the youngest camper, then heading to the next camp up in grade. You'll have plenty of time to get more than one camper dropped off.
Once those gates open, it's welcome time! Our staff are literally jumping for joy! We like to say we're having an early celebration of what God is going to do in the hearts of campers during the week. Pull through the line and you'll have your luggage taken out of the trunk and be parked in no time. No parents carrying around luggage at Pine Cove!
When you get out, bring the items you kept in the main area of your vehicle with you. There will be a staffer right there to direct you to your cabin.
Drop off mail and meds
We put together a guide all about camper mail and care packages and a guide all about medication guidelines. There are stations set up for you to leave any camper mail and to drop off medicines. Need to talk with the camp nurse about some medical specifics? They'll be right there at the medicine table. The biggest "gotcha" for parents is forgetting to leave medicines in their original packaging. We cannot take medication without the original container.
Settle in at your cabin
When you arrive you'll be given your cabin assignment; now it's time to get settled in! Most of the time, your counselor will be in the cabin when you arrive, but if they are not give it a little more time and they'll get there. They were probably in line jumping just a few minutes before! Be sure to ask them how they got their camp name.
This is a great time to help your camper make their bed and get comfortable. If they did not wear their swimsuit to camp, use the bathroom stalls to get changed. Then head to swim check!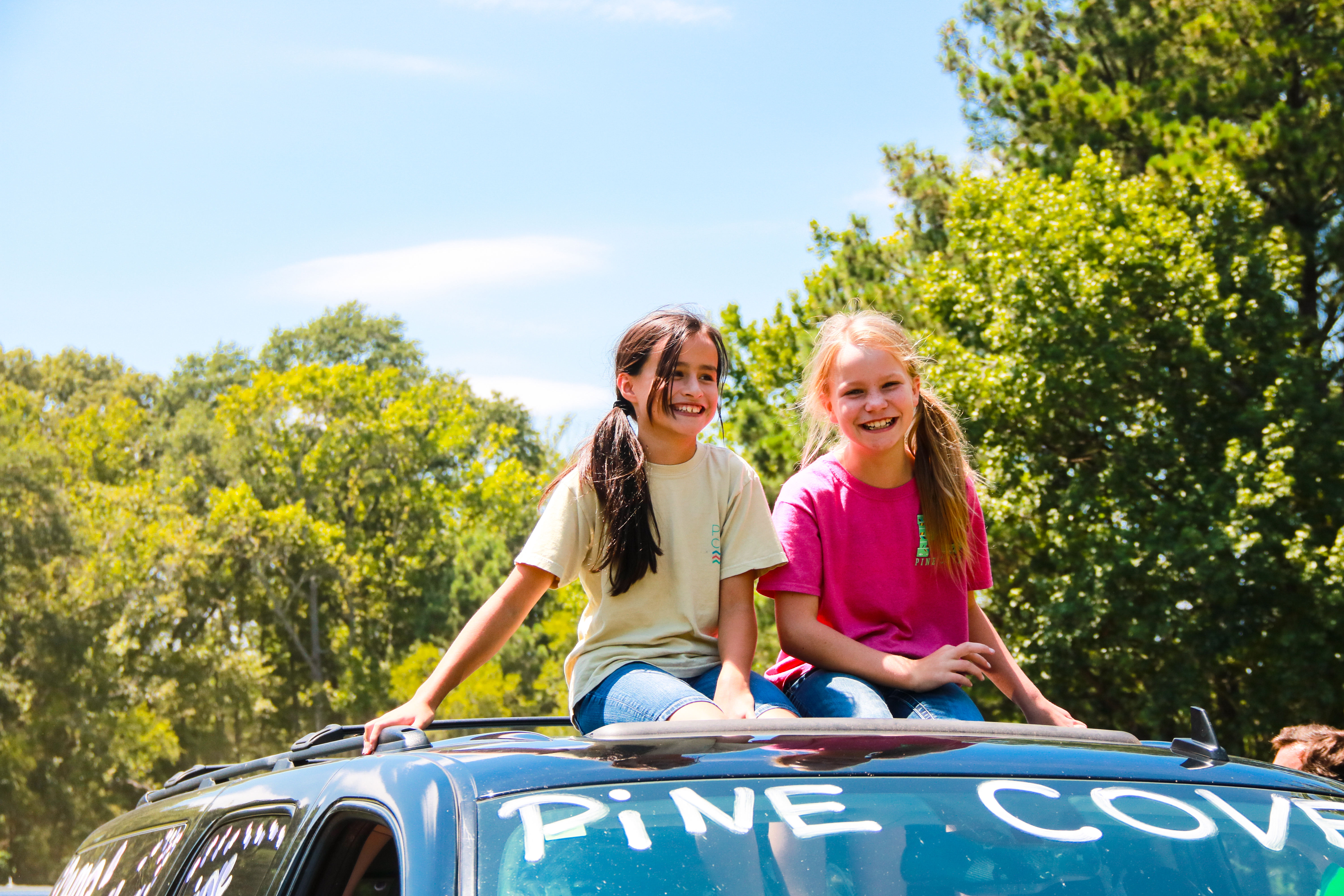 Swim check
Everyone goes through the basic swim check every year. Safety first! The simple swim across the pool and thirty seconds of treading water is a great excuse to get in the water on a hot afternoon. If you're concerned that the swim across the pool will be too strenuous for your camper, fear not! We just want to make sure they can make their way across the pool on their own—they can even doggy paddle! Feel free to practice swimming across a pool and treading water on your own – another great excuse to get in the water this summer.
Some parents say goodbye before campers do the swim check (great if your camper needs some distraction right as you leave); other parents wait outside the pool area while campers swim. Your camp will help direct you.
Head for home or stay a little longer
Once the swim check is complete, or even during the swim check, you are done! You can say your goodbyes and have your camper join in with games in the central area of camp. If you'd like to visit the camp store, this is a great time. Or if you'd like to meet the camp director, they will be one of the staff in a Pine Cove polo.
On the way home
We want you to stay connected to the camp experience from home, and there are two great ways to do that. First, download our CampLife App. Later in the day you'll be getting a counselor bio with some information about your camper's counselor. The next morning you'll see your first photo gallery! The other way to stay connected is to follow your camp on Facebook, Instagram, or Twitter (or all three!). There will be fresh pics daily showing all the fun.
Have more questions? Contact us and we'd be glad to help. Can't wait to see you!