Updates for Summer 2022
We are continually evaluating the latest state and church recommendations for our procedures to protect the health of campers, staff, and parents. Any major updates for 2022 will be summarized below.
The CampLife app got a fresh coat of paint and will require you to log in, even if you've already logged in before. Log in before you leave home so you can make sure you're ready to go for the week.
Dropping off your camper (what we call "opening day") at overnight youth camp can be a little overwhelming, especially for first-time parents. There's the mixed emotions about dropping off your camper, plus all the work of getting packed and loaded up, and then that sneaking feeling like you forgot to do something important. We've got your back! This in-depth guide to opening day covers everything you need to know to have a smooth and enjoyable drop-off experience.
Check the map
Triple check that you are heading to the right camp and pull up the map on our handy dandy directions and addresses page. It sounds crazy, but we've had campers drive to the wrong camp on opening day, and some of our camps are a couple hundred miles apart!
Fill out your forms
You probably were on the ball and already did this, since forms are due a week before opening day. We want to take the best possible care of our campers and to do that we need to know some important information about them. Forms are available a month before opening day. If you did not complete them beforehand, you will have to stand in line and take care of these when you arrive before you can do anything else, and who wants to do that when there's so much other fun stuff to do?!
Load up the car
Our in-depth guide to packing covers everything you need to know to get the trunk packed and ready, but there are a few things we recommend keeping separate. Here's how we suggest putting everything in your vehicle:
Main area of the vehicle

Camper/s wearing their swimsuit/s and with pool towel/s
Laundry bag with pillow and bedding
Meds in a bag separate from everything else (see our guidelines)

Back of vehicle / trunk area
Lots of families enjoy decorating the car windows with paint as a fun family activity before leaving. Then you can wave when you see each other on the highway traveling to camp!

Pull up to camp
Check our drop off and pick up page to figure out when we open the gates at your camp. You do not need to be at camp right when we open the gates, but you should know that a lot of returning campers get there early to be in line ready to go when the gates open. Bunks are first come, first served, so if getting a specific bunk is important to your camper you may want to arrive early.
If you have campers at more than one camp check the drop off times for each camp. They are not all the same. We recommend starting drop-off with your youngest camper, then heading to the next camp up in grade. You'll have plenty of time to get more than one camper dropped off.
Once those gates open, it's welcome time! Our staff are literally jumping for joy! We like to say we're having an early celebration of what God is going to do in the hearts of campers during the week.
Time to move ahead to drop off your luggage. No parents carrying around luggage at Pine Cove! We'll grab your trunk out of your…well…trunk and send it on its way to its cabin.
Once you park, bring the bedding, meds, and towel you kept in the main area of your vehicle with you. There will be a staffer right there to direct you where to go next.
Drop off meds
We put together a guide with all medication guidelines. There is a station set up for dropping off medicines. Need to talk with the camp nurse about some medical specifics? They'll be right there at the medicine table. The biggest "gotcha" for parents is forgetting to leave medicines in their original packaging. We cannot take medication unless it is in the original container (it's a legal thing).
Skip the line
Running out of room in your trunk? We have so much fun camp merchandise—like t-shirts, water bottles, stickers and more—and you can send it straight to your camper's bunk! Why not skip the line at the store and order online? Use the code "Cabin2022" for free "shipping" on your order! When you order, put their first name, last name, the name of their camp, the week or session, and the day of the week for delivery in the gift notes and we'll take care of the rest. Deliveries are available Monday – Thursday.
Walk to your cabin
When you arrive you'll be given your cabin assignment; now it's time to walk to your cabin! Your counselor will be there at the door to greet you. Most families will take some time here to help their camper put their bedding on their bed, put their toiletries in the bathroom and help them feel settled, but this depends on the age of the camper and their personality, so it's up to you how much you want to do.
Swim check
Everyone goes through the basic swim check every year. Safety first! Some camps will do this while parents are around on property and others will do this later in the day after parents leave. The swim check is 30 seconds of treading water then swimming across the pool. Campers don't have to do any specific strokes to get across the pool. If it helps, feel free to practice swimming across a pool and treading water on your own before you arrive – it's a great excuse to get in the pool while it's hot!
Goodbyes
You know your camper best, so you can decide the best time in the afternoon to say your goodbyes, but there's no need to linger. If you'd like to visit the camp store, this is a great time. Or if you'd like to meet the camp director, they will be one of the staff in a Pine Cove polo.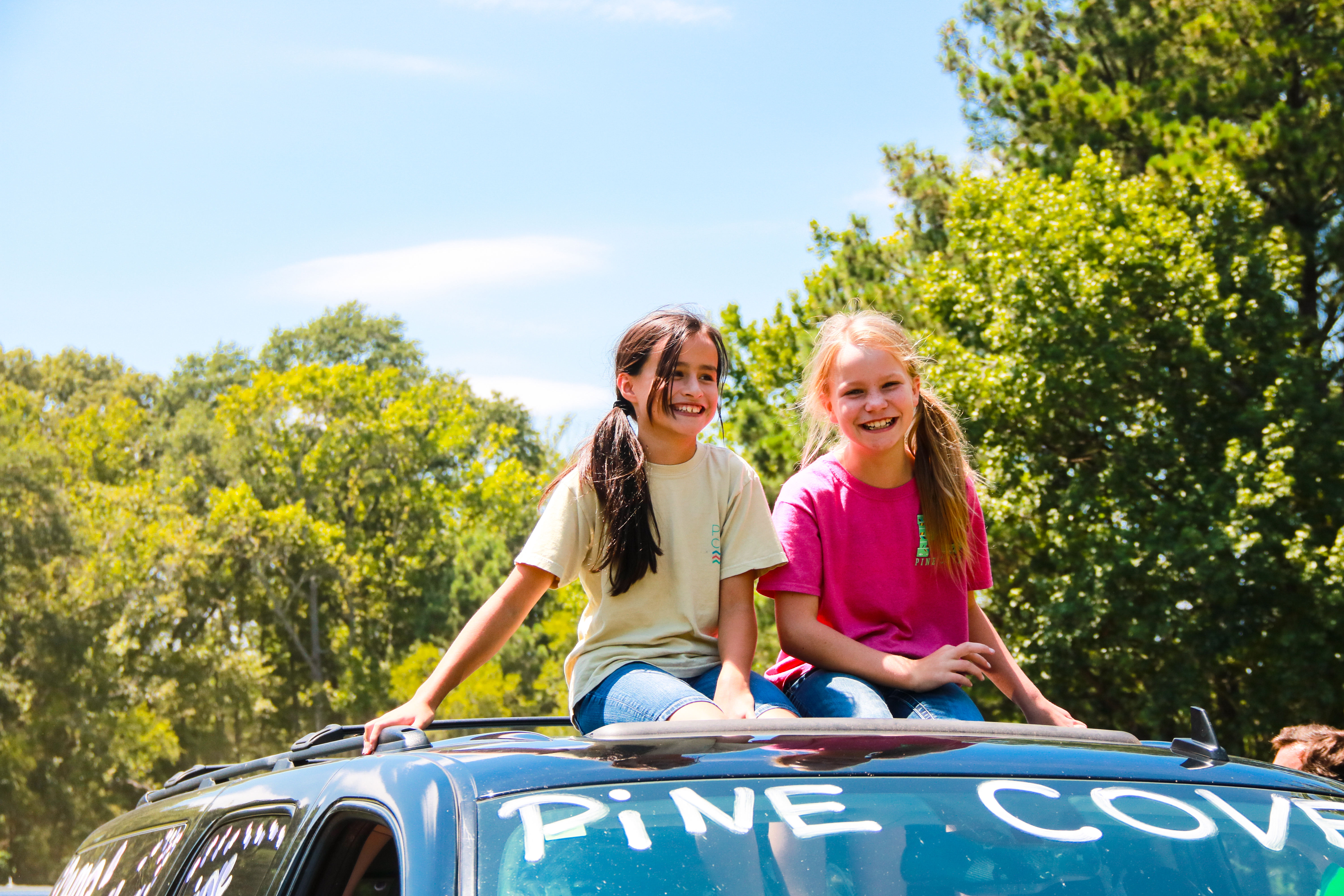 On the way home
We want you to stay connected to the camp experience from home, and there are three great ways to do that.
First, download our CampLife App. Later in the day you'll be getting a counselor bio with some information about your camper's counselor. The next morning you'll see your first photo gallery!
Second, follow your camp on Facebook, Instagram, or Twitter (or all three!). There will be fresh pics and Instagram stories daily showing all the fun.
Third, check out our podcast! We took the life and fun of camp and put it into your headphones (or maybe car stereo). With insightful interviews, outrageous camp games, and unexpected surprises, you'll get to experience a little bit of the same camp fun as your camper.
Have more questions? Contact us and we'd be glad to help. Can't wait to see you!