Updates for Summer 2020
We are evaluating and updating our opening day drop off procedures weekly to protect the health of campers, staff, and parents and to stay in line with the latest CDC and governmental guidelines. We'll summarize our updates here and expand on them in the post as we have them.
Prefer to stay in your car? We'll have an express drop-off option for you upon arrival. 

Temperature checks and screening questions for everyone in a vehicle coming onto property. Check temps before you leave!

Only campers may be allowed in sanitized cabins. Our staff will help campers set up their bedding. We'll have fewer buildings open and just one restroom available to the public. Any open buildings will abide by capacity and physical distancing guidelines.

Put all mail for the week in camper trunks. Because of increased disinfecting practices, we can not sort and deliver camper mail this year. You CAN still write letters back and forth with your camper through our Camp Life App though!

Please limit the number of people and pets in your car for drop off. Everyone in a car, not just campers, will be asked health screening questions. Most activities at camp will be closed during drop-off.

To help campers stay physically distant in 2020, campers will be part of a small group, called a cohort. A cohort consists of two "buddy cabins," not to exceed 16 campers, with whom campers will do all their activities, including club, meals, theme nights, and Bible studies. Cohorts do not mix with other cohorts.
Dropping off your camper (what we call "opening day") at overnight youth camp can be a little overwhelming, especially for first-time parents. There's the mixed emotions about dropping off your camper, plus all the work of getting packed and loaded up, and then that sneaking feeling like you forgot to do something important. We've got your back! This in-depth guide to opening day covers everything you need to know to have a smooth and enjoyable drop-off experience.
Check the map
Triple check that you are heading to the right camp and pull up the map on our handy dandy directions and addresses page. It sounds crazy, but we've had campers drive to the wrong camp on opening day, and some of our camps are a couple hundred miles apart!
Fill out your forms
You probably were on the ball and already did this, since forms are due a week before opening day. We want to take the best possible care of our campers and to do that we need to know some important information about them. Forms are available a month before opening day. If you did not complete them beforehand, you will have to stand in line and take care of these first thing when you arrive, and who wants to do that when there's so much other stuff to do?!
Load up the car
To reduce the risk of spreading infection, this summer we're encouraging you to limit the number of people and pets coming to drop off your camper. We won't be opening any of the activities that are normally open on property for visitors, so there will be less to do outside of dropping off a camper. We'll be checking temperatures on arrival, so it wouldn't be a bad idea to check them at home before you leave so there aren't any surprises when you arrive!
Our in-depth guide to packing covers everything you need to know to get the trunk packed and ready, but there are a few things we recommend keeping separate. Here's how we suggest putting everything in your vehicle:
Main area of the vehicle

Camper/s wearing their swimsuit/s, pool towel/s
Laundry bag with pillow and bedding
Meds in a bag separate from everything else (see our guidelines)

Back of vehicle / trunk area
With increased disinfecting practices, we can not sort and deliver camper mail this year, so please put any mail or packages you want them to receive in their trunk. There will not be a mail drop off station this year. We're also only accepting packages through the mail for emergency forgotten items, but due to government regulations we must let packages sit for 24 hours. If you forget something for your camper, contact us and we'll help take care of it.
The line will take longer to get through this year because of our new health procedures. Make sure you get a bathroom break in before you get in line if you're concerned you or your camper won't make it! There is not really bathroom access while waiting in line.
Lots of families enjoy decorating the car windows with paint as a fun family activity before leaving. Then you can wave when you see each other on the highway traveling to camp!

Pull up to camp
Check our drop off and pick up page to figure out when we open the gates at your camp. You do not need to be at camp right when we open the gates, but you should know that a lot of returning campers get there early to be in line ready to go when the gates open. Bunks are first come, first served, so if getting a specific bunk is important to your camper you may want to arrive early.
If you have campers at more than one camp check the drop off times for each camp. They are not all the same time. We recommend starting drop-off with the youngest camper, then heading to the next camp up in grade. You'll have plenty of time to get more than one camper dropped off.
Once those gates open, it's welcome time! Our staff are literally jumping for joy! We like to say we're having an early celebration of what God is going to do in the hearts of campers during the week.
You'll have two options for drop off. If you prefer to stay in your car, you can tell us and we'll have you go through our express drop off. If you'd rather park and walk with your camper to their cabin, you can do that. We'll direct you where to go. If your camper needs special attention at drop off, we will work with you to ensure a great experience. Just talk with a staffer about your needs.
Health Screening & Luggage Drop
At this point you'll get asked if you'd like to stay in the car and do an express drop off or if you'd like to park and walk your camper to their cabin. Both options are great – your choice.
We'll also do temperature scans and screening questions for everyone in the car. If anyone will answer yes to any of these questions please email our nurse manager before noon on the Saturday before your arrival.
In the past 14 days have you experienced:
a temperature greater than 99.5?
a new or worsening cough?
shortness of breath?
a sore throat?
diarrhea?
had close contact with an individual diagnosed with COVID 19?
traveled via airplane internationally or domestically?
traveled to or from a "hot spot" location? The list of hot spot locations will change as we continue to monitor the news but places like New York, New Jersey, New Orleans, Atlanta, and Seattle are on this list.
Once screened, you'll move ahead to drop off your luggage. No parents carrying around luggage at Pine Cove! We'll grab your trunk out of your…well…trunk and send it on its way to its cabin.
If you park, bring the bedding, meds, and towel you kept in the main area of your vehicle with you. There will be a staffer right there to direct you to your cabin.
Drop off meds
We put together a guide all about medication guidelines. There is a station set up for dropping off medicines. Need to talk with the camp nurse about some medical specifics? They'll be right there at the medicine table. The biggest "gotcha" for parents is forgetting to leave medicines in their original packaging. We cannot take medication without the original container.
Remember, this year we are not taking separate letters and packages, so there will be no mail station. Anything you want your camper to get during the week needs to be packed in their trunk.
Walk to your cabin
When you arrive you'll be given your cabin assignment; now it's time to walk to your cabin! Your counselor will be there at the door to greet you. To keep the sanitized cabin as free from potential infection as possible, we are only allowing campers inside the cabin. Our amazing college staff will help your camper set up their bedding and move in their trunk. We'll be sanitizing trunks before they come into the cabin.
Swim check
Everyone goes through the basic swim check every year. Safety first! The swim check is 30 seconds of treading water then swimming across the pool. Campers don't have to do any specific strokes to get across the pool. If it helps, feel free to practice swimming across a pool and treading water on your own before you arrive – it's a great excuse to get in the pool while it's hot!
Goodbyes
Some parents say goodbye before campers do the swim check (great if your camper needs some distraction right as you leave); other parents wait outside the pool area while campers swim. Your camp will help direct you.
You are welcome to hang out on the cabin porch to say goodbyes. To keep equipment as sanitary as possible, we will not have any activities open for family members during drop off. If you'd like to visit the camp store, this is a great time. Or if you'd like to meet the camp director, they will be one of the staff in a Pine Cove polo.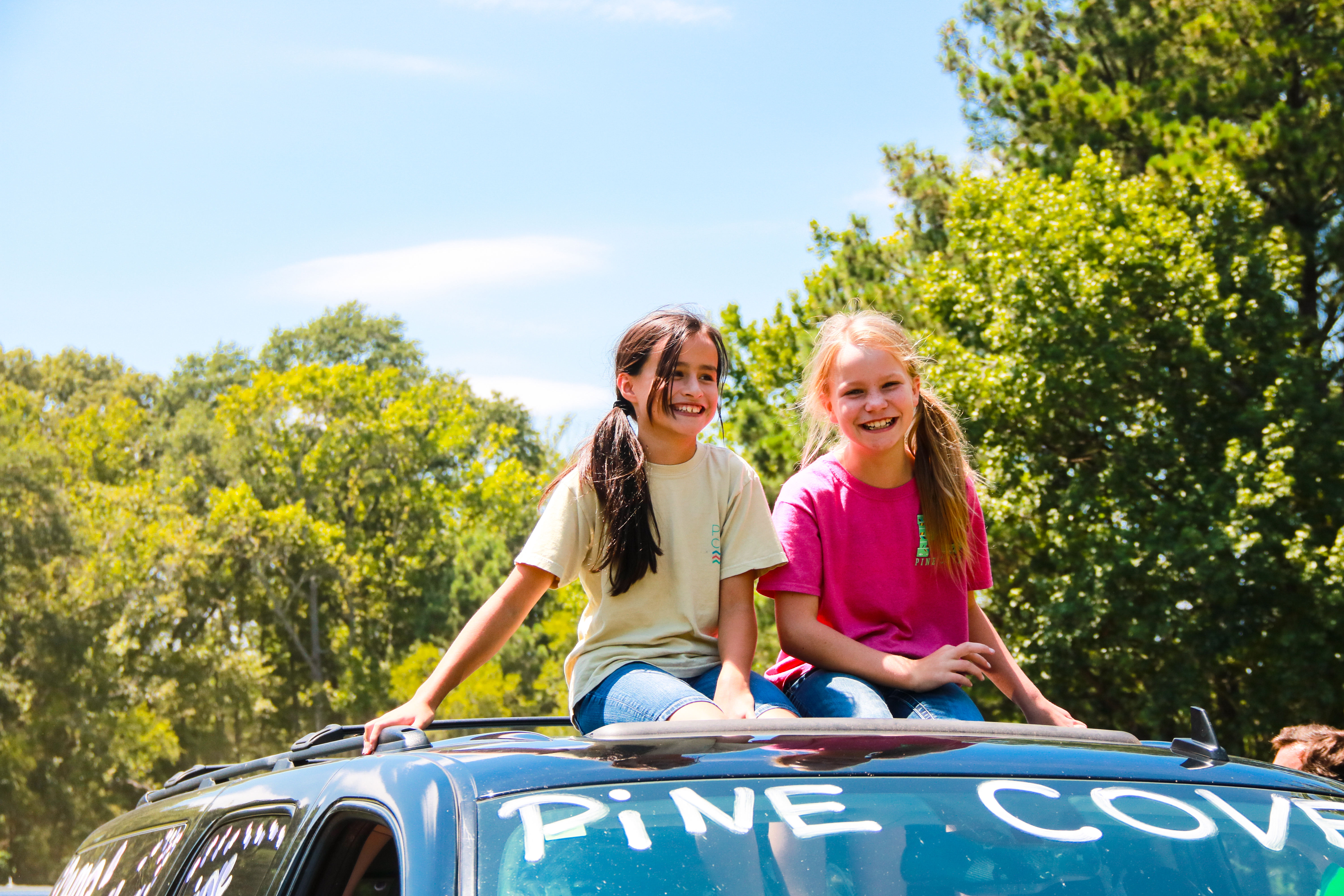 On the way home
We want you to stay connected to the camp experience from home, and there are two great ways to do that. First, download our CampLife App. Later in the day you'll be getting a counselor bio with some information about your camper's counselor. The next morning you'll see your first photo gallery!
Second, follow your camp on Facebook, Instagram, or Twitter (or all three!). There will be fresh pics and Instagram stories daily showing all the fun.
Third, check out our podcast! We took the life and fun of camp and put it into your headphones (or maybe car stereo). With insightful interviews, outrageous camp games, and unexpected surprises, you'll get to experience a little bit of the same camp fun as your camper.
Have more questions? Contact us and we'd be glad to help. Can't wait to see you!